'Today, political formations seem to adopt an 'us' versus 'them' approach which shows up even in their attitude towards civil servants.'
'This creates an added layer of fear.'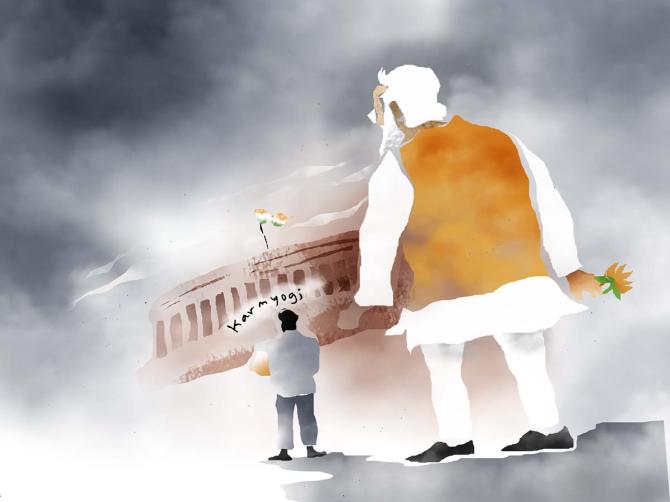 "I don't think any sensible bureaucrat would have given advice to impose a lockdown in a country as large and as diverse as India with four hours' notice," former Cabinet Secretary K M Chandrasekhar tells Shobha Warrier/Rediff.com in Part 2 of an enlightening interview.
Do you feel Mission Karmayogi should start with the political class and then move to the next step in the ladder?
If the intention is only capacity development of officers through their long careers by using the new portal, politicians who are generally in public service for shorter tenures may not benefit much from it.
Politicians need a different orientation in policy making, in debating skills, in acquiring wide, sweeping knowledge of global changes, public finance and the developmental needs of the country.
Many entrepreneurs say, bureaucracy and red-tapism are the biggest hurdles that are slowing down India's development. Do you feel so?
I agree that drastic changes have to be made in our systems to cut out delays in process.
This can be achieved by recognising and rewarding results rather than adherence to processes, removing fear from the minds of civil servants, putting in place fair, transparent and stable policies for evaluating performance.
The ultimate aim of Mission Karmayogi, according to the government, is to provide ease of living for the common man and ease of doing business for business people. Are bureaucrats the reason behind us not having ease of living and ease of doing business?
Ease of living and ease of doing business cannot be achieved through Mission Karmayogi which, according to my understanding, is intended only to provide avenues to civil servants to upgrade their skills.
To achieve progress in the areas specified, it is necessary to quantify what we want to achieve within what period and to manage and evaluate performance entirely in this light.
How can we achieve both?
We can achieve both by putting in place a sound performance management system.
You joined the civil services in 1970, and you rose to Cabinet Secretary. What are the major changes you see in the present bureaucratic structure? Has it become better, or worse?
At the top level, I see a growing tendency to centralise power.
The PMO has grown much larger post 2014. The role of the Cabinet Secretariat has correspondingly declined.
Most ministers have less authority than in earlier times.
According to my information, they have little choice even in the selection of officers at the central level.
Officers, by and large, seem to be operating in an atmosphere of pervasive fear, which hampers decision-making.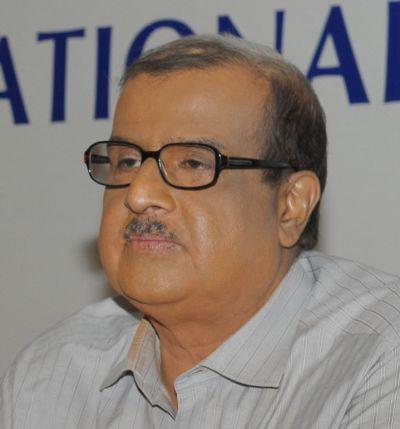 Systems of promotion and empanelment undergo frequent change with the result that many officers in states prefer not to go on central deputation.
Stability is not guaranteed and some changes seem sudden and whimsical.
The quality of young officers continues to be very good.
During my visits to different states, particularly backward states, as Cabinet Secretary, I came across several remarkable initiatives conceived and implemented by young officers.
They have more opportunities than we had in our time because there are many more central and state schemes, huge inflow of money, a much higher degree of digitalisation giving them room to speed up work in many areas.
They are also technically qualified and have the skills to develop new ways of doing things.
In short, there is sufficient strength and quality within the present bureaucratic structure.
What is needed is a shift in focus from process to results and the removal of the aura of fear that hovers over the official system.
It is important also to treat civil servants as professional instruments of government.
I have worked with Congress-led governments, CPI-M-led governments, BJP-led governments, even with H D Deve Gowda's government.
All treated me as a professional and respected my views, even though they may not always agree.
Today, political formations seem to adopt an 'us' versus 'them' approach which shows up even in their attitude towards civil servants. This creates an added layer of fear.
Who has the upper hand in decision making -- the bureaucracy or the political class?
In the system I have been accustomed to, the civil servant and the minister or any other political head would discuss issues, their pros and cons.
In a democratic system, the responsibility for every decision has to be taken by the minister, hence the final word would be his.
I have worked with some wonderful ministers who were not only receptive to ideas but had the knowledge and the capacity to point out possible pitfalls and to generate new and refreshing ideas themselves.
Many people blame the bureaucracy for the problems the Indian economy faces now. Who do you think is responsible, bureaucrats or the political class?
While I have not been in government for some years now, I do not think bureaucrats can be blamed for the present state of the economy.
It must be noted that the economy was on a high from 2003 onwards, but for a short blip in 2008, when the sub-prime mortgage crisis in the US sent the global economy into a tailspin from which India quickly recovered through two well-conceived and well-executed stimulus packages.
The decline of the economy started with the sudden decision to demonetise 86% of the country's currency, a flawed introduction of GST, global slowdown and stubborn refusal of the decision makers to accept the self-evident fact, proclaimed from the rooftops by many eminent economists, that the key to revival lies in demand side fiscal measures.
I am sure no bureaucrat would have given such advice or failed to give the right advice to pull the economy out of what looks like a very ominous future.
Similarly, the blame for the humanitarian crisis soon after the lockdown fell on the bureaucracy for their lack of understanding of the migrant issue. Do you think so?
I do not think any sensible bureaucrat would have given advice to impose a lockdown in a country as large and as diverse as India with four hours's notice.
If sensible bureaucrats had been consulted, the first thing they would have told the government would have been to take the state governments on board as the frontline of resistance to the pandemic will consist of state agencies, not the Centre.
An entrepreneur I interviewed said babus sitting in Delhi were not able to understand the pain industry was facing. Are the babus in Delhi cut off from ground realities?
This is perhaps true. As we go higher up the ladder, we do tend to lose connection with the field.