'At any given point in time, we expect only 25 per cent of our workforce will need to be in office.'
'And any given person will only be required to spend only 25 per cent of their time in office.'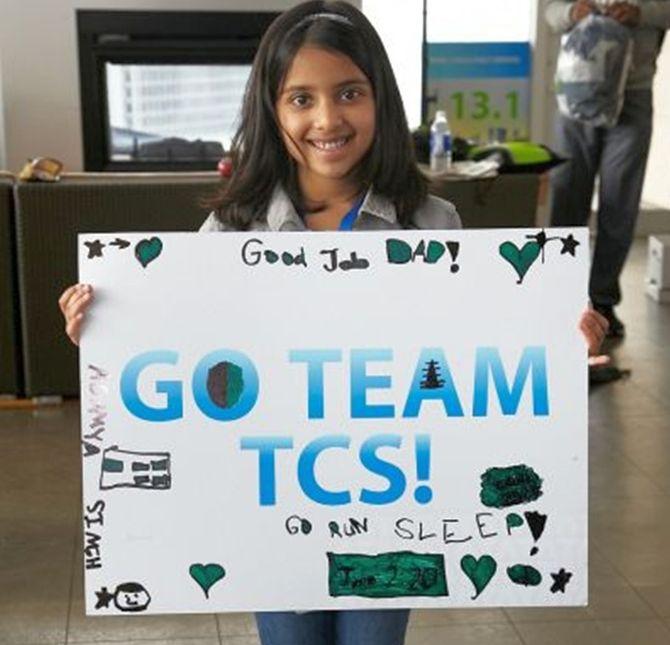 As the world was bracing to fight the COVID-19 pandemic, IT services major Tata Consultancy Services made a bold announcement -- managing the firm with just 25 per cent working from office while the rest will work from anywhere.
More than three months into the pandemic, Rajesh Gopinathan, CEO & MD of the Mumbai-headquartered firm, says that the model has been well-accepted by all stakeholders including clients and employees, and the vision can be achieved even much faster than initially planned.
In an interview with Bibhu Ranjan Mishra and Sai Ishwar, the TCS CEO also talks about the factors which make the firm believe that the COVID-19 related pains may have bottomed out.
What is the biggest disruption that the pandemic has caused for you at TCS?
The biggest change (for us) is our Secure Borderless Workspace project and (operate with just) 25 per cent of the workforce in office by 2025.
We have reacted to this pandemic by boldly defining that vision and we are systematically executing it.
We are also making sure that other operations such as innovation workshops and forums across cities like London, New York and Tokyo shift online.
This has increased total client participation as over 2,500 unique customers logged in last quarter.
We are also looking to the R&D side and specific areas where we can add to value chain of our customers.
Our number of patents is also steadily rising.
Almost all aspects of our operations are getting significant investments to be retooled including employee, HR models and so on, so as to prepare ourselves for the next phase.
Are you saying that just 25% of your employees will only come to office by 2025 and 75% will work from anywhere, as part of your 25/25 model?
At any given point in time, we expect only 25 per cent of our workforce will need to be in office.
And any given person will only be required to spend only 25 per cent of their time in office.
When this happens, would you require the same amount of office infrastructure you have at the moment or you will scale it down?
Initially, when we put out (the 25/25 model), I had characterised it as displaying a concept car in an auto show.
It was just like we wanted to gauge the level of interest.
We have got tremendous interest, both from customers and employees.
Definitely, we are onto something where all of our stakeholders are interested.
Now, analogically, it could be a production-ready car much faster than originally planned.
Whether it's 25 per cent or this happens by 2025, that doesn't matter.
What is clear is that, we are on the right track and it will become a reality even faster than planned.
In the just ended quarter, you overly relied on cost optimisation measures to somehow mitigate the impact of the pandemic. What all levers did you?
From a cost perspective, we were very clear not to significantly reduce employee costs directly.
But we proactively managed it by putting a freeze on lateral hires though we remained committed to job offers those were already made.
Though we have the industry's lowest employee attrition, which is around 10,000 to 11,000 (every quarter), a reduction in overall supply-side (new hiring) and ongoing attrition resulted in reduction in net headcount which also helped cost savings.
There were some other areas like (no) travel which we benefited from.
Our finances and operations teams have done phenomenal work in other areas such as operations and facilities in terms of redirecting the expenses.
At the same time, production levels on sales, operations and delivery divisions have remained high.
So any improvement in the revenue scenario should help us in terms of (improving) margins.
TCS management is quite optimistic about the road ahead and signalled the impact due to the pandemic has bottomed out. What gives you this confidence?
We are seeing increasing investments in technology-led programmes, and technology has become the heart of the response (by clients).
Geographically, from economic activity and demand perspective, Europe is much ahead of the curve.
They were the most impacted in the beginning but they have got the pandemic under control and are opening up faster.
So we definitely think, Europe will perform better (for us) by next quarter.
In the US, the downturn in banking, financial services and insurance was not as bad as it was originally anticipated.
Many banks had taken large provisions for anticipated losses but their (the US) economy has stayed more resilient.
That is why there is greater optimism in the US.
But all the commentary (that we are making) is (what we see on the ground) as of today and need to be revisited if the spikes in COVID-19 cases become out of control.
The only vertical where you have done well is healthcare and life sciences. But your exposure to this is not that high. Any plan to further ramp-up or make some inorganic play here?
We have deployed our best resources and have dedicated some of our senior-most people to that vertical.
We are quite hopeful that we should see sustained growth upside.
One of our best performing products under the healthcare vertical is the advanced discovery and development platform.
We are also directing a lot of innovation into this space while doubling down and expanding our relationships with existing customers.
Are you facing any project ramp downs or cancellations due to the impact of the pandemic?
Other than the directly impacted sectors such as airlines, hospitality and parts of retail, there has been no significant impact.
There is some reprioritisation of spending happening but certainly no significant cancellations per se.
That is another reason why we are optimistic in the medium term as we are not seeing any widespread cancellations.
There are a lot of voluntary bankruptcies filed by large retail brands in the US and Europe. What is your strategy to deal with the pending dues?
Our standard policy is to provide for these dues based on the recoverability.
We maintain a fairly conservative accounting approach to it.
Our typical daily sales outstanding is 70 to 75 days.
So that limits the exposure even in this situation.
But you're right. There have been 5 to 6 bankruptcies in retail.
Surprisingly, the airline industry is less impacted than originally anticipated.
But we remain conservative in our revenue recognition and accounting policies.
There is a belief that owing to the prevalent situation, clients are starting to go for vendor consolidation. How is TCS placed here?
I would call it 'flight to quality' (by the clients).
Clients have realised that there is significant value one can drive through operational excellence and delivery.
The value of quality becomes more tangible only when disruption happens.
We are seeing global businesses going for consolidation of (their) suppliers (vendors), and also their subscale in-house operations.
They are taking a relook at their long-term strategy. We are also participating in all those discussions though they will take time.
Has benching of employees gone up in the current environment? If yes, will impit act lateral hiring?
Yes. It has gone up as our headcount is down only by nearly 4,800 people while our business has fallen 6 to 7 per cent.
We had stopped lateral hiring completely in the last quarter. Now, we are slowly opening it up.
Tt seems, fresher hiring is also getting delayed as universities have not been able to conduct the final semester exams?
We are actively engaging with all the 40,000 freshers to whom offers were made.
In fact, Milind (Milind Lakkad, global HR head) conducted a townhall which was participated by around 8,000 to 10,000 candidates.
We are also communicating when we expect them to join us.
Will hiring for next year be impacted?
It will get impacted because when we made the (campus) offers last year, our expectation of this year's demand was very high.
But we are honouring all those offers.
So the next year plan will be factored based on how the current year demand turns out and what could be the demand next year.
Will you take a relook at your decision on the freeze in hikes?
Absolutely. As and when the situation improves, we will keep relooking at it.
And, there is an opportunity to fix it in different ways also as part of our salary is variable.
We have gone through our regular promotion cycles.
You have signed $6.9 billion worth of deals in June quarter without a single visit or meet-ups with the clients? How did you manage this?
It is an amazing story from all forms of operations.
Many of them are fairly large deals which were initiated earlier, but we had to ensure there were no pullbacks and properly closed.
It's an amazing work that our sales and account management teams have done.
It shows clients' ongoing trust and belief in us and a testament to the quality of our relationships.
Last quarter you had said best M&As are executed when no one else is buying. Are you in talks to carry out any large buyouts or take over the captives?
We are participating in vendor consolidation across suppliers including captives.
But we always look for the right asset at the right price.
Though we have an ongoing crisis, the asset prices are not necessarily very low.
So we are not actively looking out M&A opportunities though we are participating in all forms of discussions.