The man sought after by parents when they want to admit their children to Ivy League colleges tells Anjuli Bhargava how a hobby became a source of livelihood.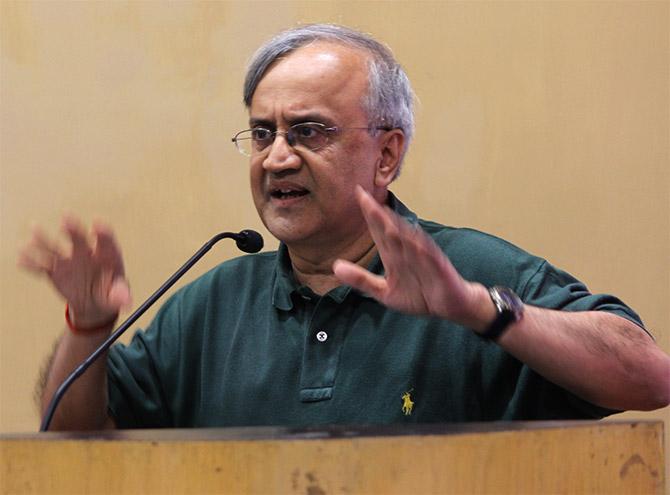 Viral Doshi is nothing like what I expected.
I expected to meet a young, slightly brash, fast-talking and aggressive man, basking in his own success. The gentleman walking towards me is wiry, has white hair, spectacles and a relaxed gait. He seems more like a professor than a consultant.
Doshi is a well-known name among Mumbai and Delhi parents obsessed with Ivy League admission for their children. Indian parents even in Singapore, Dubai, London, Malaysia and Tokyo swear by Doshi and fly in and out of Mumbai to consult him.
We are meeting for dinner at The Oberoi's Fenix coffee shop in Mumbai. For Doshi, a typical day during the admission season (September to December) begins at 5 am and rarely ends before 11 pm.
Calls and appointments with parents keep him busy through the day. Non-admission time is less hectic, though his work days remain pretty long.
A one-man army -- he handles between 100 to 150 students a year -- many parents are convinced Doshi's intervention can make 'all the difference' (two out of three students he takes up head to an Ivy League college every year).
Parents, who have done their homework, are also aware that Doshi's son, his only child, went to Princeton for his undergraduate studies and has followed it up with two degrees from Harvard.
Typically, parents leave their wards in Doshi's able hands from Grade 9 for four years. He does psychometric testing (for 14 to 18-year-olds), analyses the child's strengths and weaknesses and finds out his or her interests and then maps out a possible career.
Once that is identified, he guides a student on a possible career path and then finds the right place for the child to study in his or her chosen field.
For those four years, Doshi says, he becomes like a life coach -- friend, philosopher, guide and mentor -- and treats every child like his own.
"I advise like a parent; not as a counsellor." He feels Indian students have a lot of potential but little guidance -- be it at school or at home.
We order a mushroom soup and salad for me and vegetarian pasta for him with an excellent bread basket to share. The food is above average and takes no time to arrive.
After finishing his senior Cambridge from the Cathedral & John Connon School in Mumbai, Doshi headed to Britain to do his A levels (in the mid-70s) and then moved to the US to study engineering at Cornell.
After Cornell, he worked in banking for two years and then headed back to India.
Initially, he and his father (also an engineer) set up a manufacturing unit to make super alloys. This was the mid-1980s -- a time when Indian parents were beginning to look at the option of sending their children abroad for higher studies but few knew how to go about it.
Doshi started helping out friends and their children as a hobby because he had first-hand experience. Two of his early patrons -- close family friends -- were Arshad and Fareed Zakaria.
By 2004-2005, as more and more Indians started sending their children to colleges abroad it became evident to Doshi that his hobby could become a source of his livelihood.
Urged by his wife -- who could see he was passionate about mentoring and guiding young people -- he decided to shut his manufacturing business and devote all his time to education and career counselling.
He hasn't looked back.
Over the last few years, Doshi has opened offices in Dubai (Pakistani clients mostly go to Dubai), Singapore, London and New York and spends some time every month in each of these locations.
That way his clients are spared the trouble of flying to Mumbai and he gets a first-hand sense of what's going on in the world of education, so to speak.
"I didn't want to do a business of just sending kids out of India, but where is the choice?" he asks.
While the number of schools in India has increased by 300 per cent and colleges by 10 to 20 per cent in the last 10 years, he has seen a jump of 300 per cent in the number of students moving abroad.
If that's sad, Doshi says what is delightful is that a foreign degree is no longer the preserve of the urban elite.
One of his students from Pilibhit recently got into Stanford and seven Ivy League colleges. He chose Harvard on a $85,000 scholarship.
A girl from Indore is going to Wharton.
Another student from Vijayawada got into Stanford and six Ivy League colleges.
"Unlike my urban kids, they are far more motivated and focused," he says and jokes that urban parents should list an obscure address, as colleges look for diversity.
Dealing with students is the easy part; it's the parents he finds hard to handle.
"Sometimes I tell my wife to put my head in an ice bucket to cool me down," he says.
He meets mothers who keep telling him they are "very stressed out" and he can't understand why a child applying to a college should stress out the mother.
He advises mothers not to discuss this at parties since "every mother whose child is going abroad becomes an expert on the subject." He argues they end up doing a disservice to each other and spreading anxiety through needless comparisons.
Also, a good university does not guarantee success. Parents seem to have lost "all perspective," so the first thing he does when he goes to address, say, a FICCI, YPO (Young Presidents Organisation) or school meeting is to tell them they have gone "berserk."
"I tell them it's absurd. Is this the be all and end all?" He says many parents appear to be fulfilling their own ambitions through their children. "This is sad as it puts immense pressure on the children."
Why the madness?
College admissions have become a status symbol, a new form of one-upmanship. "I ask them where they studied and whether they are successful. It's not as if only those who go to Harvard and Princeton achieve success in life."
Indian parents have still not got over the idea of their sons studying engineering or medicine. "If you ask why, they say it has a lot of scope. What scope, I ask."
He tries to convince parents to let children follow their passion -- whatever that might be. He often feels his job is more about educating parents than counselling their children. "All too often parents think they know it all when in fact they know very little."
Parents also don't realise that their children need to go to the right place -- not the place they would have liked to attend or the one that sounds good on paper or in the party circuit.
There are enough examples of students, who are forced to attend a particular college or course but are unable to cope. The consequences are unpleasant for all concerned.
I ask why he continues to plough a lonely furrow. "I find clients want you and you only," he explains. So he restricts himself to strategy and overseeing the applications; he doesn't do essay editing and polishing and so on, for which he uses associates.
As far as writing essays for applications is concerned -- this has developed into an independent business in itself -- he tells children that if they can't write their own essays, they can't go to America -- "You are not going to survive an American education." Of course, some consultants charge a fee and do this job for students.
Does he find time to do anything else, I ask. His schedule sounds pretty punishing to me. Doshi loves music (Western classical), travelling and watching movies.
An avid movie buff, he says, he is the first-day-first-show type. "If anyone wants to meet me on a Friday, they have to come to Inox." Often, he ends up watching "utter junk."
But students are his ultimate passion. "I sow a seed in a child and then see him grow into a tree" -- something akin to how a mother would feel.
Photograph: Kind courtesy School Of Management Studies, Varanasi