'It will be like this: If you use the window seat in the first row, next will be the aisle in the second row, to maintain social distancing.'
'So, two-thirds of the aircraft is not going to be used.'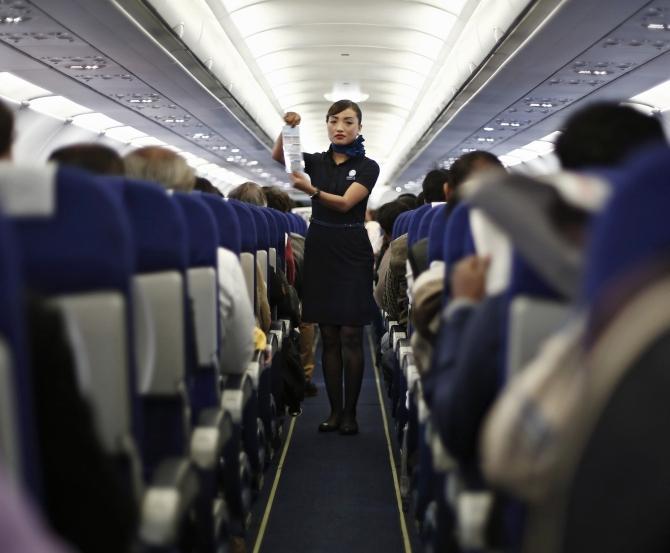 Aviation worldwide has been devastated by the novel coronavirus.
With no flights in the air for four weeks and no sign of resumption of any activity, India's aviation industry could post a loss of $3 billion in the June quarter, says aviation consultancy firm CAPA.
Even after the resumption of flights, things may not go back to what it was before the coronavirus struck.
According to reports, the Directorate General of Civil Aviation is formulating a new set of standard operating procedure for airlines post-lockdown that will make it mandatory to maintain social distancing onboard flights.
So expect at least two seats in a row to be kept vacant, no onboard meals, restricted boarding etc.
With airlines forced to keep at least one-third of their seats vacant, the cost of tickets may shoot up, thus putting flying out of reach for a large section of an already nervous populace.
"Fear is going to inhibit people from travelling, definitely for more than a year for international travel," aviation expert and former Boeing 737 instructor pilot Mohan Ranganathan, below, tells ,strong>Rediff.com's Shobha Warrier.
The first casualty of the coronavirus pandemic in Europe was low cost airlines. In India, we do not know how bad the situation is. How long do you think it will take for the Indian aviation industry to rise from this massive slump?
It will take not less than two years. In fact, it will be very bad for the next two years.
All small airlines will take a big hit. You will see many small airlines fold up.
Unless they have financial backing, they will not survive. Those who survive will have to be with deep pockets.
If you take the Indian context, Air India, of course, will not fold up as the government will back it up.
Vistara will survive as it has the backing of Tata and Singapore Airlines.
And, Indigo, if they are careful and downsize, will survive
I doubt whether the others are going to survive.
Do you think people will stop flying for some time because of fear?
Fear is going to inhibit people from travelling, definitely for more than a year for international travel.
You can forget about any family travel globally because of quarantine and all these tests.
People will not travel for tourism, they may travel to the place where they have their family.
So, forget about tourism for the next couple of years.
Maybe in Europe, people may travel. But because of the fear of flying, people will prefer to drive.
When they drive, they know they are not being exposed. People will travel only where there are good roads and good travel facilities on the ground.
As far as international air travel is concerned, it is not going to happen much.
The best yardstick is what Singapore Airlines has done by grounding so many aircraft. Changi airport has closed one terminal because they expect a severe downturn.
Air New Zealand has laid off all the 777 crew. It means they do not expect any long-distance flights for some time.
So, job losses connected with this sector is going to be huge.
Very big! Job losses will not only be among the airlines, but there will be job losses in connected industries also.
If there are no tourists, it is going to affect not just the airline industry, but other industries also.
The hotel industry is going to take a big hit. Many of them cater to airlines and that is going to be stopped.
You have a lot of ground staff contractors. They would have invested taking loans expecting an expansion, and they are going to lose on that.
All of them have been fallen prey to the utopian numbers given every year, but nobody has planned for a rainy day.
So, you are going to have job losses and business losses, not just in the airline industry but anything connected with the airline industry. They are all going to be badly affected.
How much are the airline companies going to lose when aircraft remain idle?
The losses are huge because very few airlines own the aircraft. Most of them sell it and lease it back. So, those who make money are the promoters.
And the airline companies have to pay the lease amount in dollars.
What you earn is in local currency. Unless you have international travel, you are not going to earn in dollars. In the last one month-and-a-half, the rupee has gone down by Rs 7 or so against the dollar.
So, when you have zero income, your cost is increasing day by day.
It was reported a month ago that the only airline that has a cash reserve is Indigo with Rs 30,000 crores. Ten days ago, the reports say Indigo now has a cash reserve of Rs 9,000 crores.
The other airlines were all in negative figures.
I don't think any bank is going to give easy loans to the airlines because there is no prospect of recovering your loan.
The very fact that they are selling tickets even during the lockdown saying they will give you a voucher shows they need cash. They are cash starved.
The government has asked the airlines to refund the money to all those who had booked earlier. How are they going to do it?
The government can say. If they don't, what can the government do? They cannot take any action because there is no legal backing to it.
It is just a government order; it is not a law. So, you can't take the airlines to court.
If they don't have the money, how can you expect them to refund?
Even if the airlines have flash sales, you will see that very few numbers will book in future.
Even if they say you buy a Rs 1,000 ticket and the ticket is valid for one year, the trust value of aviation is gone.
Only rich people can afford airline travel hereafter, not the middle class or the lower middle class. They are not going to travel again.
Could it be because of the fear connected to the coronavirus?
It is not that. People will be weary now with all the additional security.
Earlier, you may have a fever and normally you would have travelled. But now, at the point of boarding, they may say we will quarantine you. When you are quarantined, your whole programme gets affected.
The best example I can give you is Viswanathan Anand is stuck in Germany while his wife and kid are here (in Chennai). Even he will think twice before travelling out.
In future, people will really worry about travelling. I expect it will take at least a year for the fear to die down.
After 9/11, air traffic dropped tremendously.
After SARS, air traffic dropped tremendously. But it recovered because it was not a worldwide phenomenon. It did not affect all the countries and we didn't have a lockdown like this.
Now, when you have a lockdown like this, you have airlines all over the world on the ground.
And this is going to take a long time for a recovery.
It is said that because of the need to have social distancing, fewer people will be allowed inside a flight. Does that not mean the prices will go up?
Yes, 60% of the seats cannot be used because of this.
It will be like this" If you use the window seat in the first row, the next will be the aisle in the second row, to maintain social distancing.
So, two-thirds of the aircraft is not going to be used. Only 30% of the aircraft will be used.
In such a situation, no airline can survive.
You don't even break even unless the fares are exorbitant. Then only the super-rich and the freeloaders can travel.
When they started low-cost air carriers, they said they wanted to take away the bus and train passengers.
With so many restrictions, with early check-in, with less luggage being allowed, people are just going to stop travelling by flights.
In fact, people will be a little scared of travelling by train too.
I foresee more and more people driving and taking taxis.
How can the aviation sector tide over this difficult period? Just wait?
Yes, they have to wait. You have to start very slowly, from scratch.
First, you have to downsize now that travel is going to be highly restricted. Even if they remove the restrictions, it is going to take time to get the trust and confidence of passengers.
So, you must build up dynamically, starting slowly and in a small way.
How huge will be the losses for the airline industry globally?
IATA says it is going to be around $200 billion!
Job losses in India will be around 30% to 40% for selected categories like pilots and engineers. For the other people, it might be around 60% to 70%.
So, you expect at least a couple of years for flights to be in the sky?
Even after two years, I expect only 50% of the current numbers. There will not be a boom time for another 5 years.
Because the world economy is in shambles, the tourism industry is going to be in shambles. So, without tourists and without business travel, airlines cannot pick up that fast.
Do you feel the coronavirus has made people and countries rethink athe future and rebuild everything from scratch?
Yes. The virus has taken us back by 30, 40 years!