'Over 27 million youngsters in their 20s lost their jobs in April.'
'33 million men and women in their 30s lost jobs in April,' points out Mahesh Vyas.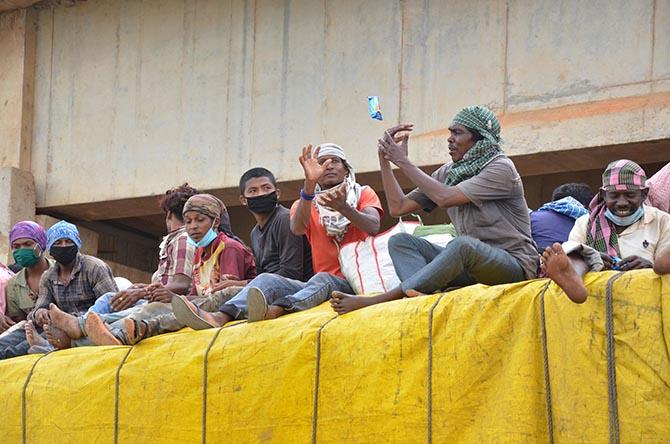 Labour statistics improved during the week ended May 10, 2020.
But only in comparison to the previous week, which was the worst that India has witnessed so far.
The unemployment rate fell from 27.1 per cent to 24 per cent.
Labour participation rate rose from 36.2 per cent to 37.6 per cent.
And employment rate rose from 26.4 per cent to 28.6 per cent.
These improvements notwithstanding, this is not a good place to be in.
In spite of very low income levels, open unemployment in India in April 2020 was 23.5 per cent.
In comparison, a much richer USA reported an unemployment rate of 14.7 per cent in April.
In India, the rate shot up 14.8 percentage points. In the US, it shot up by 10.3 percentage points.
Labour force participation rate fell from 41.9 per cent in March 2020 to 35.6 per cent in April, a fall of 6.3 percentage points.
In the US, it fell by 2.5 percentage points to 60.2 per cent.
Compared to Indians, Americans can afford to remain unemployed for some time as the state provides assistance to the jobless.
While the US government has announced a handsome fiscal package to reduce the economic pain of the pandemic, the Indian government has dithered for too long on this count.
No wonder gradually voices against the lockdown have been rising.
The window of the benefit of the doubt in favour of a lockdown is closing.
Claims that the pandemic can be devastating is countered by the fact that the lockdown is already devastating.
122 million jobs have been lost because of the lockdown.
We do not know how many deaths could have been caused by job losses, but we know that scores of lives were lost because of people falling asleep on tracks or dropping dead on their way walking home.
We will probably never know how many died because of hunger, how many children were stunted because of malnutrition caused by the lockdown.
And, we can never count the loss of dignity.
Hunger, fear, anger and desperation is writ large on the faces of people wanting to save their lives from the lockdown.
We are given to understand that older people are more vulnerable to the virus.
It is also logical to believe that children suffer life-threatening or highly debilitating malnutrition during such times.
Researchers have shown that this malnutrition during childhood hurts their ability to earn a living later in life and therefore it plays an important role in keeping them perpetually trapped in poverty.
The long-term impacts of the lockdown are probably worse than what we witness today.
Data from CMIE's Consumer Pyramids Household Survey tells us a disturbing story of young aspiring Indians who have just stepped into the labour markets.
Youngsters in the age group 20 to 24 years accounted for 8.5 per cent of the total employed persons in the country in 2019-2020.
But they accounted for 11 per cent of those who lost jobs.
34.2 million of these young men and women were working in 2019-2020. In April 2020 their numbers were down to 20.9 million.
Over 13 million youngsters lost their jobs in the lockdown.
Another 14 million jobs were lost in the age-group 25 to 29 years.
This loss again, was disproportionately high.
This group accounted for 11.1 per cent of total employment in 2019-2020 but it accounted for 11.5 per cent of the job losses.
Over 27 million youngsters in their 20s lost their jobs in April.
This has serious long-term repercussions.
It is during this age that young India builds its career in the hope of a bright future.
If the career of this cohort is disrupted or postponed by even a year it will have to compete with the new cohorts joining the labour force after them -- arguably, for fewer jobs.
Young India will not be able to build the savings it will require later in life.
33 million men and women in their 30s lost jobs in April.
86 per cent of the job losses were among men.
Job losses have been registered in every age-group of five years.
However, job losses are disproportionately high among the younger age groups.
Collectively, 44 per cent of those employed in 2019-2020 were under 40 years of age.
However, 52 per cent of the job losses were among those who were under 40 years of age.
In contrast, while those of 40 years or more accounted for 56 per cent of the total employed in 2019-2020, they account for only 48 per cent of the job losses.
Job losses among the vulnerable are likely to raise the proportion of households in debt.
It will also possibly raise debt delinquency.
Job losses among the young population would have implications on savings.
While households may well conserve cash during these times, the loss of jobs among the young deprives households of the extra cash that is mostly saved for either buying a house or durables or for retirement.
This loss of savings will have long-term implications.
---
Mahesh Vyas is MD & CEO, CMIE.