The government must send out a clear signal that leadership positions at regulatory bodies are not a preserve of retired government officials, argues A K Bhattacharya.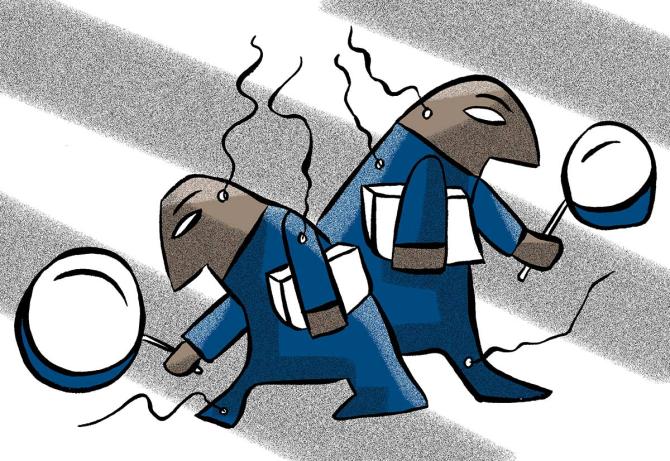 A quick look at India's regulatory framework will tell you that there are at least 16 institutions that supervise different sectors of the economy.
This may not be a complete list but should be sufficient for starting an assessment of how these regulatory bodies have managed themselves and whether they are well placed to independently regulate different sectors of the economy in the post-reforms era.
These regulatory bodies supervise a wide range of sectors, including financial intermediaries like banks and insurance companies, financing of housing and small industries, capital markets, electricity distribution, telecommunication, competition policy, port tariffs, airports, pension funds, warehousing, food safety, petroleum and natural gas, aviation and insolvency resolution.
Most of these institutions are set up under specific laws approved by Parliament and hence they function as independent bodies. But a few of them are still operating as an extension of the government, like the regulator for civil aviation (Director General of Civil Aviation).
The need for setting up regulators for different sectors arose as the Indian economy was liberalised. The government decided to restrict its role to only setting the policy for each of these sectors. It formed separate regulators for them and ensured that both the public and private sector players followed those policies.
Not adhering to them meant penalties from the regulators, which were empowered to act independently.
The government was thus further distanced from those running businesses, whether they were in the private sector or were owned by the State.
Going by this yardstick, many of the sector regulators have performed their role reasonably well, even though they have not yet lived up to expectations.
But a key question that comes up time and again is about the leadership in these regulatory bodies. Who heads them?
The answer to that is a rude reminder that something is wrong in the way the regulators for these bodies are chosen. Almost three-fourths of these regulatory institutions are headed by retired government officers.
Expectedly, there is a marked preference for those belonging to the Indian Administrative Service. Nine of the regulators are retired IAS officers and three belong to allied services of the central government like the Indian Audits and Accounts Service, Indian Railway Service or the Indian Cost Account Service.
Only four of these regulators are professionals.
What does this tell you about the way these regulators are appointed and how well they perform their basic role of supervising these sectors?
To be sure, there is nothing wrong per se if a regulatory body is headed by a retired or a serving IAS official. Indeed, there are a few ex-IAS regulators who have done quite well as regulators.
But there are two kinds of problems if three-fourths of the regulators are those who had served the government in senior positions.
One, a regulator's independence is likely to be at risk if s/he has served the government in key positions before being appointed to supervise a sector. Her/his long service with the government may bias her/his judgement in adjudicating on enforcement of the policy.
The government, on the other hand, can also influence its former officers in their discharge of functions as regulators.
One of the purposes of a regulatory framework is to make regulation immune to government influence, once the policy has been framed. However, senior government officials joining regulatory bodies as their heads could give rise to a nexus, thereby defeating the purpose behind regulation.
Two, a more serious problem is that the preponderance of senior government officials playing the role of regulators seems to suggest a worrying lack of capacity in these regulated industries to produce professionals who would be willing to become regulators.
A professional regulator, with relevant experience of the industry, is a boon for regulation. There may be conflicts of interest. But the government is there to keep a close watch on the professional regulators to ensure that they act independently and take a stance that is not influenced by either the government or the regulated entities.
It is important, therefore, that the government reduces its dependence on IAS or senior government officials to fill the many vacancies in the regulatory bodies.
The dependence on government officials is not a new trend. After the early days of reforms, when many of these regulatory bodies were set up, the regulator would often be from the private sector, and certainly there was no such preponderance of government officers heading these bodies.
The problem began in the late 1990s, and governments over the last two decades are at fault.
Unfortunately, the capture of the regulatory bodies by the IAS and allied services had the backing of both the bureaucracy and ruling politicians. Retired government officers as regulators served the interests of both the bureaucracy and the ruling politicians.
The need to break the stranglehold of retired civil servants over the regulatory bodies is greater today as the government has sped up the process of monetisation of government assets.
With such monetisation and privatisation, the role of regulatory bodies would become even more critical.
In such a situation, a regulator, who is friendly to the government because of being a retired government official, may undermine regulation at the cost of consumers' interest, perpetuate government interference in these sectors through an indirect route and serve the interests of those businesses that have a nexus with the government.
Neither of the possibilities is healthy for an economy that is trying hard to grow fast by improving competitiveness and ease of doing business. The bedrock of competitiveness and ease of doing business is effective and independent regulation.
The effort should now be to build adequate capacity in the industry so that professionals from different sectors can aspire to become regulators.
But for that to happen, the government must send out a clear signal that leadership positions at regulatory bodies are not a preserve of retired government officials.