'All these incidents go to show that the day of the anodyne, apolitical corporation is running out fast,' says Kanika Datta.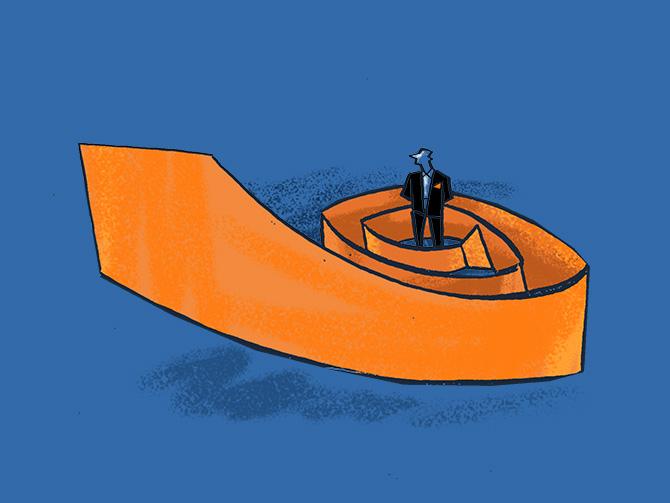 Corporate India's well-established aversion to engaging with controversy involving the ideology of the ruling regime -- any ruling regime -- is being tested in unexpected ways.
These engagements are the direct result of this ruling dispensation's ideological mobilisation of society.
Three incidents in the recent past show that this process of profound political evangelism has had the unintended consequence of impacting relations between customers and service providers, forcing them to show their ideological colours (or not).
First, in August last year one Amit Shukla from Jabalpur, Madhya Pradesh, proudly tweeted that he had cancelled an order on food delivery app Zomato because they had allocated a non-Hindu delivery boy and had declined to change the rider or refund the customer for cancelling.
Zomato's witty response: 'Food doesn't have a religion, it is religion.'
Founder Deepinder Goyal backed this up with a politically correct message about India's diversity.
'We aren't sorry to lose any business that comes in the way of our values,' he said, a tactful way of telling customers to like it or lump it.
Perhaps Zomato was lucky that the incident occurred in a non-BJP state.
So the police responded by slapping Mr Shukla with a Rs 10,000 bond for good behaviour on grounds that his tweet could have disturbed the peace in a communally sensitive city like Jabalpur.
Ride hailing service Uber -- whose food delivery subsidiary had tweeted its support of Mr Goyal -- did not enjoy the same sort of support in Mumbai, that multicultural metropolis under the thrall of saffron group think.
One of its drivers summoned the police to arrest a passenger for discussing protests against the Citizenship (Amendment) Act.
The driver had recorded his client's conversation and was reporting him for 'anti-national activities', which is being increasingly tucked into the wide-ranging counter-terrorism law, the Unlawful Activities (Prevention) Act.
That the police responded at all was notable -- that too, not to the driver's invasion of his client's privacy.
Instead, they interrogated the passenger and let him off with a paternal warning against wearing a red scarf in these 'troubled times'.
Uber's response was as mild as you can get.
It suspended the driver for 72 hours while it conducted a review, then reinstated him and decided to send him to re-sensitisation classes -- meaning he will have to re-attend the compulsory sensitisation programme for drivers before they start work with Uber.
This, course, of action begs several questions.
First, did Uber not consider it reprehensible that a service provider should record a client's conversation without permission (there was no statement to this effect).
Second, what does this sensitisation programme entail?
Does not snooping/snitching on a passenger -- courteously minding your own business, in other words -- not form a part of a driver's basic training?
If it does, then this driver clearly hadn't got the message the first time.
Is he likely to absorb it now that the local BJP workers had feted him for being 'an alert citizen'?
It is worth wondering whether the cab company would have responded in the same way had the incident occurred in the US.
In January, an Ola driver took issue with his client's phone conversation criticising the Modi government.
An argument ensued, the client complained, but the Ola management's response was that it would take 'corrective action' (unspecified) and not dismiss the driver in the interests of respecting India's democratic principles and encouraging 'a healthy exchange of thoughts'.
True, this was not an incident worthy of dismissal and, absolutely, everyone in India should have the right to express their views.
Back in 2018, Ola underlined its secular platform when a Hindu client declined a Muslim driver and proudly tweeted the fact.
Meanwhile, the private airlines's heavy-handedness in the case of comedian Kunal Kamra raises discomfiting questions.
Mr Kamra accosted the famously obstreperous anchor of a BJP-cheerleading channel on an IndiGo flight.
For this, he was banned for six months immediately (now pruned to three months).
A tweet from the civil aviation minister encouraged other private airlines and State-owned Air India to do the same.
The locus standi of a political leader interfering in a row between a private airline and its customers remains unclear.
So far so bad. Soon it transpired that all airlines were guilty of overkill.
Three months was the maximum ban for an offence that, while not to be condoned, did not disrupt services or delay the flight in the same way as some politicians had done in the not so distant past.
Worse, the pilot complained that he had not been consulted, and the aviation watchdog backed him up by saying due process had not been followed.
Mr Kamra has since sued the airline for 'mental harassment'.
All these incidents go to show that the day of the anodyne, apolitical corporation is running out fast.
How they respond will determine the politico-business dynamic in the days to come.