43 months after Modi's election promise that his government would create 10 million jobs, the reality does not paint a pretty picture, warns Shyamal Majumdar.
Illustration: Dominic Xavier/Rediff.com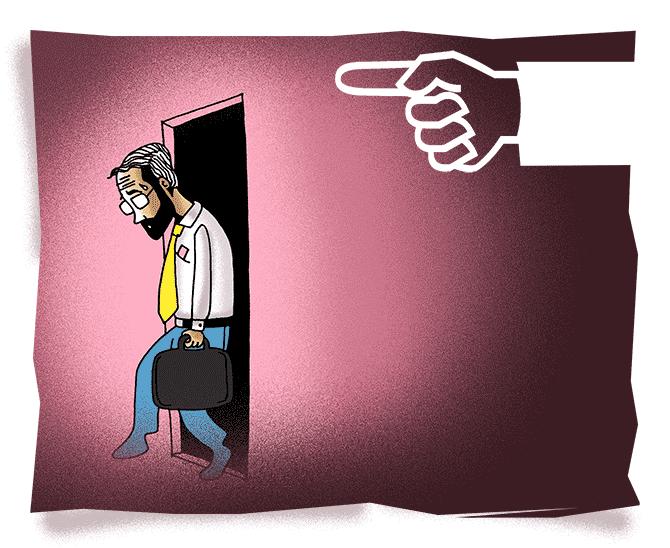 The latest evidence of India's anaemic jobs growth comes from the Manpower Group.
In its Employment Outlook Survey for July-September, 2017, the human resource consulting firm says the jobs market might continue its downward slide for the sixth consecutive quarter.
In fact, the hiring forecast for India is least optimistic since the survey was launched in 2005. The net employment outlook for the third quarter is +14 per cent, compared to +35 per cent in the year-ago period.
Another survey, which focused only on the information technology sector, says only 58 per cent of companies plan to hire in the April-September period, a 15 percentage-point drop from the previous quarter.
Three years after Prime Minister Narendra D Modi's election promise that his government would create 10 million jobs, that's not a pretty picture.
While it's true that surveys are not the best way to judge anything, they do give a sense of the emerging situation.
Here is another indicator of the grim jobs situation, though this one, too, has been dismissed by many in the government and some consultancy organisations.
Data compiled from the quarterly report on changes in employment in selected sectors by the Labour Bureau reveals that employment creation even in the most labour-intensive sectors of the economy in 2015 plummeted to a low of 135,000 jobs, compared to 930,000 jobs that were created in 2011.
Considering that one million new people join the workforce every month, the 2015 figures mean that just 0.01 per cent of new workers actually found work.
One can justifiably argue that the Labour Bureau operates with an extremely restricted sample that covers just 30 to 32 million people in eight sectors. So let's go beyond Labour Bureau data.
Unfortunately, the picture is still blurred.
Rating agency Crisil has pointed out that the jobs intensity in manufacturing is down a fourth -- from 0.78 in 2000-05 -- and employment elasticity in manufacturing has fallen to 0.57.
A Deutsche Bank research note says that with urban employment growth stalling over the past few quarters due to slowing investments in e-commerce/Internet start-ups and a slump in Indian IT services demand, job creation is likely to take on a critical status on the government's agenda as it enters the last 18 months of its term.
If there are still some doubts over the crisis, listen to Chief Economic Advisor Arvind Subramanian. This is what he said in mid-May this year: 'India's current employment challenge is particularly difficult as sectors that did well in generating jobs in the country's previous economic boom years -- IT, construction and agriculture -- are in trouble now.'
It is being argued in some quarters that jobs data usually hide the real picture as they do not cover the unorganised sector, which constitutes over 85 per cent of the total labour market.
But if organised sector job growth has slowed down so drastically, it is a leap of faith to expect that unorganised sector jobs have shown a robust growth, specially when sectors such as construction and small businesses employing casual labour are in trouble.
McKinsey has prepared a counter-narrative to the entire debate.
In a report published on June 15, 2017, it said the country has created opportunities for 'gainful employment' for the workforce.
For example, the apparent sluggishness in job creation disguises significant structural change: While agricultural employment has fallen sharply from 2011 to 2015, non-farm employment has risen by more than eight million jobs a year.
McKinsey also says digital ecosystems are creating new opportunities for better quality work, and more remunerative work, for a segment of the workforce.
McKinsey has a point, but the fact is the same report also says, 'The movement of workers from farm to non-farm jobs has not been rapid enough to account for growth in the working-age population.'
The Labour Bureau's 2016 report also paints a dire picture of under-employment, which is of two types -- not finding work for a full year and working at very low wages.
Only 61 per cent of people in the workforce were found to have year-round jobs, with 34 per cent working only 6 to 11 months even though they were willing to work for 12 months.
Since there is not much evidence to the contrary, the central point is this: Absence of adequate attention to jobs generation has only led to more and more people being pushed into either lowest-end self-employment, or the most unprotected employment.
There is no doubt that job creation needs to be an essential axis along which economic and social policies are formulated.
Time is running out.
MORE must read features on the JOBS CRISIS in the RELATED LINKS alongside please.