'You will see more and more people working independently -- starting beauty parlours, driving cars, etc.'
'This is what we call the gig economy.'
'The same people who have been laid off in India or are unable to get visas to work in the US may be part of this gig economy.'
'India needs billions of jobs, and it can only be created by self-employment or the gig economy.'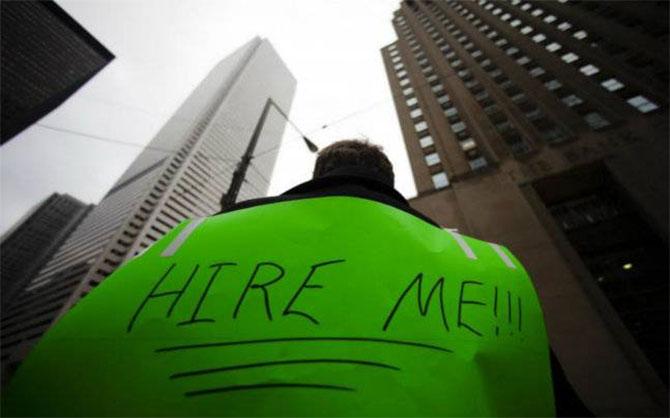 IMAGE: India needs billions of jobs, and experts believe it can only be created by self-employment or the gig economy. Photograph: Reuters
In 1987, Krish Lakshmikanth founded The Head Hunters India, India's first executive search company.
Head Hunters India specialises in senior level talent acquisition for clients across businesses in India and overseas.
Amidst news of thousands of engineers losing jobs in the information technology industry, Lakshmikanth, below, left, discusses the jobs scene in India in this must read interview with Rediff.com's Shobha Warrier.
Reports say that thousands of people in the IT industry are losing jobs. The country is experiencing jobless growth. How alarming is the employment scene in India?
Yes, there is jobless growth, and it is visible across all sectors.
Automation is happening not only in manufacturing and IT sectors, but everywhere.
I won't look at the situation as alarming because if you see jobs disappearing in some sectors, new jobs are being added in sectors like entertainment, hospitality, healthcare, etc.
For example, you go to Kerala and Punjab, and you will see English teaching centres even in the smallest towns.
You go to any small town in India you will see beauty parlours and each one of them employ at least 4, 5 people.
These are some of the new opportunities that are coming up in India.
Why did Kerala lift prohibition? Because it had affected the tourism sector, which is the mainstay of Kerala's domestic economy.
Yes, if you are talking about the organised sector, there is going to be jobless growth.
But new jobs will be created by MSMEs (Micro Small and Medium Enterprises).
If you look back, you will see that TCS did not have this size 50 years back, but Tata Steel had more than 100,000 employees at that time.
Today, TCS has 400,000 employees while Tata Steel has halved its manpower.
Infosys had just 5,000 people in the mid 90s. Today we all know, it is 200,000 plus.
Cognizant did not even exist in the middle 90s; today it is 260,000 strong.
If you needed 100 people to lay certain number of kilometres of road in the past, today you require only 20, 30 people. For a country like India, won't this create unrest?
This is happening not only in India, but all over the world.
Why do you think Americans say they do not want Indians to work in their country?
It's because the local people are jobless. Not only America and India, but countries like the United Kingdom, Europe, Australia, and Singapore are also facing the same situation.
There is jobless growth everywhere. We have to learn to live with this.
That's why many developed countries are talking about Universal Basic Income (UBI) where the governments will pay their citizens some money, even when they do have jobs.
As expected, the growth of the Indian economy this quarter is down to 6.1 per cent because of demonetisation. Do you expect the economy to grow at around 7 per cent in the coming years?
India will continue to grow; there is no doubt about it.
Whether it can create jobs is the question.
Take the manufacturing sector: what 500 people did earlier in a factory, 100 people do now.
Jobs are being produced, but it does not correspond to growth. That's why we call it jobless growth.
But jobs are being created and will be created in sectors like tourism, healthcare, etc.
By 2019, do you expect more jobs to be created in India?
Modi knows very well that the next 2 years are very crucial for him.
He is a smart man and he will spend money on infrastructure, and it will create jobs.
Also, the cleaning of the Ganga, connecting the Ganga with the Cauvery etc also will create millions of jobs in the months to come.
The fact is, only the government can create jobs; the private sector will never be able to create jobs in large numbers.
That's why the government is investing money and the projects are being executed by the private sector.
Also, you will see more and more people working independently or sometimes even employing people -- like starting small initiatives like beauty parlours, driving cars, etc.
This is what we call the gig economy.
There are contractors available globally who will do work on an hourly basis.
For instance, the same people who have been laid off in India or are unable to get visas to work in the US may be part of this gig economy.
The projects can originate from the US and the team members may be across the world.
This is actually happening today already in a small manner, but this will increase.
The gig economy is going to be the future of the world.
India needs billions of jobs, and it can only be created by self-employment or the gig economy.
For example, those who were laid off by many companies can become independent contractors and they can sit at home and work for companies situated somewhere in the world.
strong>Manish Sabharwal of Teamlease told me that it was not lack of jobs, but low wages that is the problem. Do you agree?
I will give you an example.
Hereafter, when the IT industry hires people, they will hire people from one of those staffing companies instead of taking people on permanent rolls.
Whenever a firm like TCS or Infosys need 1,000 or 2,000 people for a project, they hire people from a staffing company.
When they are laid off after the project, nobody can say that TCS or Infosys laid off thousands of employees.
If the work orders were $10 million or $50 million earlier, today they are small orders.
The budget for each order for these companies has also comes down drastically and the payment is done per transaction.
Temporary staffing will increase.
Not only in private firms but even for government jobs, there will be temporary recruitment.
Contract labour will be the norm hereafter.
If you needed 100 people for a particular job in a BPO a few years ago, for the same job, you need only 20 people now.
So, there will definitely be a reduction in jobs across all sectors.
That's why I am saying gig economy is going to be our future, so also contract labour.
50 per cent of our population is below the age of 30 and all of them are looking for jobs. What is going to happen to all of them?
10 lakh Indians enter the job market every month.
But the market creates only 1 to 2 lakh jobs a month.
You can see the gap between the number of jobs created and the number of people in need of jobs.
The government is very well aware of the situation.
Also, this is not confined to India alone, but a global phenomenon because of automation.
If the Maruti plant at Manesar had 300 robots, the Baroda plant today has 1,000 robots.
You can imagine the number of people one robot might have replaced.
Also, a robot can work three shifts a day while a man can work only one shift. And it doesn't have to take any lunch or tea break.
This is the way automation is changing the whole world.
The problem is we have only been looking at the US and European markets till now.
Why are we not looking at the Indian market?
As a person who has been connecting employees and employers, how has the Indian industry evolved in the last 5 to 10 years from your perspective?
As we manage only senior level executives, our clients are those who are not bothered about salary; they are more bothered about the quality of the candidate than the money they have to shell out.
We see that even the big Indian companies are ready to create special packages for top executives.
But at the entry level, salaries have not gone up at all in the last 10 years, and the number of people walking in for an entry level job has not changed.
There is a gap between the skill needed for a job and people with necessary skills.
You can't take anybody who walks in and train the person.
Only youngsters coming out of the IITs and NITs are employable straight away.
There are around three or four good government and private engineering colleges in each state that have readily employable students.
I would say, 10 per cent of the students can be employed straight out of college, another 10 per cent need some training in soft skills and the remaining 80 per cent need at least one or two years of training.
On one side, we hear about thousands of employees in the IT sector getting laid off.
On the other side, we also hear about TCS, Infosys etc, generating 20,000 jobs.
This is baffling and many wonder whether the layoffs are really happening.
In all these major IT companies, normal attrition happens; it is nothing new.
In the case of TCS, the attrition rate was 20 per cent earlier, and now it has come down to 12 per cent.
There are 4 lakh employees working with TCS, and if 12 per cent of its employees are going to leave every year, they will lose 48,000 employees.
But they are adding only 20,000. What does it mean?
Also, among the 48,000, not all of them leave on their own.
There are people -- maybe around 5,000 to 6,000 -- who are asked by the company to leave because of poor performance.
In this industry, skills required change every year.
The Indian IT industry grew to this size when the world needed to change from 1999 to 2000, the Y2K problem.
Then came SAP, Dotocom Java, and today it's all about SMAC -- social media, analytics, automation, cloud computing.
This means the employees have to be constantly learning.
You said recently that India would lead the world in digital business. Why do you feel so?
There is no denying the fact that India has a large population and we also have a large number of talented and intelligent people.
I would say an average Indian is smarter than say an average American.
The Digital India initiative will help us in this.
About 40 to 50 per cent of our population are in the villages, and today, even they can access the Internet through mobile phones.
They are getting empowered through distant education.
I was pleasantly surprised to find two new age digital companies in Jaipur. Each had over 2,000 employees with new age skills.
These companies did not exist in Jaipur 7 years ago.
Where do you see India in the IT sector in the next 5 to 10 years?
The Nasscom Council met in New York (in May). They say that right now, the Indian IT industry has a turnover of $150 billion, which is estimated to become $350 billion by 2025.
It means that growth is going to be more than double.
India is also going to be the biggest outsourcing destination for the entire world.
Like the world goes to China for manufacturing, it will come to India for IT outsourcing. Even today, the world is coming to India.
As the Indian market is so huge that the world wants to explore it, all the major global players want to come to India now with their consumer products.
They are looking at India as a huge market that is growing immensely.
As we work in the executive level recruitments, new companies coming to India approach us for senior level executives.
When a company comes to India, they want a Country Head, and every week, we get an enquiry.
These are people who want to invest $100 million, $200 million, etc in India.
India will be a consumer market as we will not be able to compete with China to export manufacturing products.
Other than being an outsourcing destination, India will be the consumption centre or market of the world.
Those who are coming to India are looking at the 300 million middle class Indians who are ready to buy anything.
You compare this with the population of Britain -- it's only 60 million; our middle class itself is five times more.
I would say India is shining, and will shine even brighter in the years to come.