About 13 million first time car/two-wheeler buyers are entering the market every year. If employment creation is such a big issue, where are these people coming from, asks Mahesh Nandurkar.
Illustration: Uttam Ghosh/Rediff.com.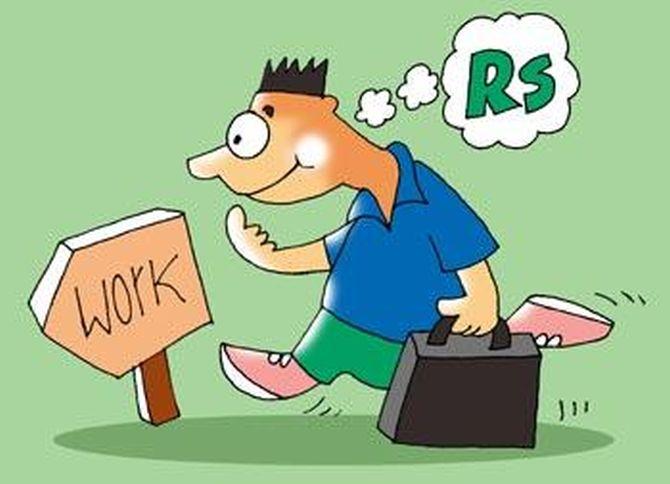 Employment creation and housing demand/construction activity are two pillars of any economy.
Central bankers and policymakers all over the world rely on data on these activities heavily.
Unfortunately in India, we do not have any high frequency and reliable data available on either.
National Sample Survey Organisation conducted its last employment survey back in 2012.
Since then we haven't had anything comprehensive on employment creation in India.
Economists, financial analysts and even policy-makers in India, hence, have had to rely on some proxy data or anecdotal evidence to estimate the trends on employment creation.
Due to demographics, India is witnessing nearly 10-11 million people entering workforce every year assuming the historical labour force participation rate (LFPR).
Creating so many jobs is a challenge for any economy. The key question is how many jobs is the economy creating?
Several commentators have raised concerns on job losses/insufficient job creation. These are clearly overdone in my view.
The actual job creation in the economy is not as bad as it's been made out to be.
We looked at company annual reports of listed companies and nearly all listed companies give number of employees as at the end of the financial year.
This is the most authentic and high frequency (once every year) data that one can get.
Our analysis of more than 900 listed companies with a total employee base of 5 million shows that jobs growth has been good at 3.7 per cent during FY17 and 4 per cent in FY16.
This is actually in line with the jobs growth seen for these companies over the last 10 years.
Thus, at least for this sample, the jobs creation has not slowed down over the last two years.
Two questions arise. The first question is: is 3.7-4 per cent good enough? Second: How can we extrapolate this sample to the rest of the economy?
Let's look at the first question. The answer is 3.5-4 per cent jobs growth is quite good.
India's total working class is about 470 million and nearly 220 million of these are engaged in agriculture.
Agriculture is not creating jobs anymore; in fact, it's shedding jobs.
Thus, the incoming job seekers have to be absorbed by the non-agri working class of about 250 million.
As explained above, about 10-11 million people are entering the job market in India every year.
This is 4-4.4 per cent of the current non-agri base.
In other words, a potential non-farming jobs growth of 4-4.4 per cent will create full employment for all the young entering the working class -- an ideal number.
In that context, our sample of listed companies with a jobs growth of 3.7 per cent and 4 per cent is quite respectable.
Now let's move to the second question.
Can we extrapolate the conclusions from our 5 million sample to the total number of 250 million (hence our sample is 2 per cent of total) non-agri jobs in India?
We need to keep the following three things in mind before jumping to conclusions.
1) In the company annual reports, the number of employees quoted is the employees on its payroll.
The increasing trend in India, however, is to hire more people on contract.
This trend may now rise even more as the Goods and Services Tax (GST) allows easier input tax credits.
In a nutshell, if on payrolls jobs growth is 3.7-4 per cent, the overall ecosystem growth is likely to be higher.
2) The revenue growth of these more than 900 companies is lower than gross domestic product (GDP) growth.
Thus, the remaining 98 per cent of the economy has probably done better than this sample.
Hence, the chances are that the employment creation in the rest of the economy should be as good if not better.
3) Our sample of 900 companies comprise nearly all the large listed companies including private banks, public sector banks, NBFCs, IT services companies, large manufacturing companies, telecom and media companies, and other outsourcing companies etc.
These companies have access to the latest technology and have used it to automate and improve the employee efficiency.
It would be fair to assume that most of the other small companies (ie, outside our sample) would probably have much less resources to invest in technology to make people redundant.
Hence, our conclusion is that the employment situation in India is not that bad.
Things could improve further if the housing construction market begins improving.
An estimated 25 million workers are engaged in housing construction and this segment has not witnessed any growth over the past five years, as the housing market has been in a lull.
As and when things begin to improve in the housing market and it should ideally, soon, given the best in two decade housing affordability for the mid-end and low-end segment, an estimated 1.5-2 million jobs per year can be created.
One of the biggest contributors to the jobs creation recently has been the growth of consumer credit industry.
Lending to the non-salaried class has now been enabled largely by the combination of UIDAI and credit bureau and a development of credit culture even in smaller towns and villages.
This type of lending is an extremely labour intensive work.
We believe that this industry has just started growing and has decades of growth still left in it and should continue to drive employment creation directly and indirectly.
Of course, we can't afford to be complacent as digital disruption can always change the scenario here.
Let's look at the employment issue from a different angle.
Currently in India, about 22 million new cars and two-wheelers are sold every year.
About 40 per cent of these sales are replacement demand. After removing the replacement demand, about 13 million first time car/two wheeler buyers are entering the market.
If employment creation is such a big issue, where are these 13 million people coming from?
Mahesh Nandurkar is India strategist, CLSA.