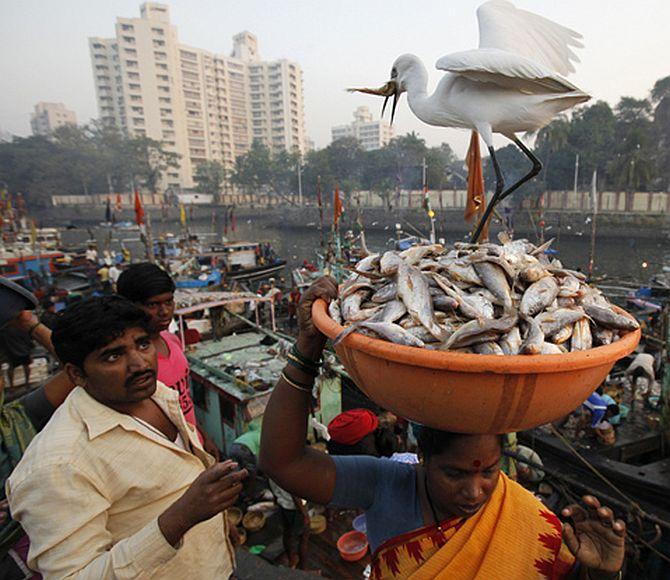 Image: Food prices in India continue to remain high, government must take steps to control it, say economists. Photograph: Danish Siddiqui/Reuters
Wholesale prices continue to remain in negative territory for a sixth straight month, with the Wholesale Price Index (WPI) contracting 2.7 per cent in April compared to a year-ago period.
Since May 2014, WPI is down 884 basis points. According to consensus estimates, WPI was expected to contract 2.3 per cent but the decline has been sharper than estimated.
The contraction has largely been driven by lower commodity and fuel prices, which continued in April.
Wholesale prices are likely to remain in the negative zone for a few more months but would start rising gradually thereafter as the base effects would wane. All three constituents of WPI — primary articles, fuel and manufactured products — remained in negative territory.
Fuel prices were down 1.7 per cent month-on-month as prices of diesel, petrol, furnace oil, naphtha and air turbine fuel fell.
Food prices, which have contributed to a large part of inflation over recent years, have remained benign, despite unseasonal rain.
Manufactured products, which have a 65 per cent share in the WPI, was in negative territory for a second month in a row.
Sujan Hajra of Anand Rathi says manufactured product prices reflect the large y-o-y drop in international commodity prices and the loss of pricing power in manufactured products (due to constrained demand).
The 12-month average prices of manufactured products is declining, reflecting loss of pricing power.
However, some other economists believe output prices have not declined in line with input prices.
This explains the differential between consumer prices and wholesale prices.
Though the Consumer Price Index slipped to a four-month low of 4.87 per cent in April, it continues to be well above WPI. Sonal Varma of Nomura explains: "Much of the fall in WPI inflation since mid-2014 reflects lower input costs, rather than a fall in output prices.
This is also reflected in the widening wedge between retail prices of manufactured goods in the CPI (clothing and footwear, household goods, personal care items) and the non-food manufacturing index in the WPI." Excluding food and fuel, wholesale prices have remained stable, which is expected to continue in coming quarters.
The positive takeaway from both these two trends — lower food prices and stability in WPI — is that the pressure on retail prices will also remain muted.
The steep fall in commodity prices is done but a sharp rebound is also unlikely.
With crude prices inching up and base effects turning negative, economists expect the wholesale prices to pick up gradually.
Inflationary pressures are likely to remain subdued, which could lead to another rate cut by the RBI to support growth, believe many.