They need to upgrade their skills and become smaller, smarter organisations, says Devangshu Datta.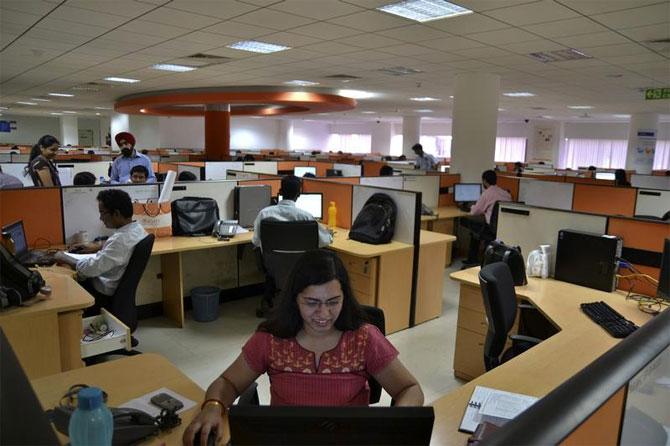 Traditionally, the third quarter is weak for information technology (IT) services companies due to the large numbers of holidays in North America and Europe. Balanced against that, the rupee fell significantly in the December quarter and a weaker rupee is supposedly good for IT companies.

Quite a few companies have released their results and forecast, including four of the majors, Tata Consultancy Services (TCS), Infosys, Wipro and HCL Tech. All of them have complained about a difficult operating environment. TCS also had to cope with specific exposure to Chennai, where the floods proved massively disruptive. So, it failed to meet expectations.
It is very unlikely that TCS will be able to match last year's performance where it registered 15.5 per cent revenue growth in 2014-15 over 2013-14. Wipro also had significant Chennai exposure but was not as badly hit.

Infosys did better than TCS, at least in perceptions. However it had very low revenue growth (less than seven per cent) in 2014-15. Both Infosys and TCS will end up, with full-year revenues that are approximately the same.
Both will also land net profit margins in the region of 22-23 per cent of revenues and so their profits should also be similar. However, Infosys has seen its share price up by nine per cent in the past year and the share has gained since the results were declared. TCS has seen its share price down by nine per cent and it's lost ground since the Q3 results were declared. However, TCS trades at a higher PE of 22x, while Infy is around 17x.

Wipro and HCL Tech have more or less met market expectations, which were low-key. Wipro's performance was slightly below consensus, while HCL Tech was marginally over consensus. Both stocks saw selling. But, the results were released into a market, which was plunging because sentiment had collapsed. So, it's tough to know what the actual impact of the results were.

There is an existential problem for Indian IT companies now. A falling rupee did not noticeably boost revenues. The old commodity model of labour arbitrage appears to be outmoded. Companies can no longer rely on volume-based earnings, with stable maintenance contracts, and enable expansion of revenue through the hiring of more manpower.

The cloud-based era requires much less in the way of that sort of labour-intensive support and it does require more creative solutions, which Indian IT firms might struggle to deliver. They need to upgrade their skills and become smaller, smarter organisations.

IT services has to re-invent itself. Perhaps these firms can seek domestic business with the government making encouraging noises about Digital India and Smart Cities. Alternatively, they need to find new revenues streams. Reinvention will take time and the winners may not be the current market leaders. In fact, new players will almost certainly, come to the fore.

It is difficult for the investor or the trader to pick those future champions. In the meantime, investors could continue to hold a basket of IT stocks on the shotgun principle - some of those stocks will be winners. They should also see Indian IT as a reasonable way to get exposure to the US economy and the US is one of the few regions which is not doing too badly.

Devangshu Datta is a technical and equity analyst