In India, where the vast majority of workers are employed in the informal manufacturing sector with no job protection, expansion, contraction and re-allocation of jobs must be going on an immense scale, rues Ajit Balakrishnan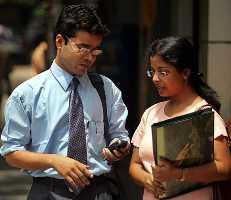 Governments throughout the world are struggling with slow-growth economies and the spectre of young people banging on their doors looking for jobs.

In India, the need to find a solution for the jobs problem is perhaps even more urgent considering the oft-quoted number of a million young people arriving every month looking for jobs.

"India today needs a boost for job creation," said Finance Minister Arun Jaitley in his Budget speech, adding that he hoped that it would come from varied sectors, including manufacturing, construction and tourism sectors.

He reserved his highest hopes, however, for the manufacturing sector, which he said 'is of paramount importance for the growth of our economy. This sector has a multiplier effect on creation of jobs'.

Since job creation is uppermost in the minds of policymakers, it might be useful to examine what scholars have to say about job creation.

Steven Davis and his co-authors of the recent book, Job Creation and Destruction, say that job creation and job destruction are part of a continual process in market-led economies.

Existing units expand or contract; new units start up; old ones shut down; all of which happens continually across industries, across regions within a country and across countries.

Their study of the United States manufacturing sector for the 1947-2005 period shows that, in a typical 12-month period, about one in 10 manufacturing jobs disappears and a comparable number of new manufacturing jobs open up -- but at a different location.

This process of job destruction and creation, they say, reflects the impact of a large variety of economic events: the growth and decline of new products and production processes; competition from domestic and foreign rivals; the extension and the denial of credit and regulatory and tax changes.

In other words, there is a continuous re-allocation of jobs across the economy.

In India, where the vast majority of workers are employed in the informal manufacturing sector with no job protection, this kind of expansion, contraction and re-allocation of jobs must be going on an immense scale.

Mr Davis' policy recommendations for the United States – worker re-training, re-location and job-finding programmes – would, thus, perhaps be even more important for India.

Where do the innovations that create the new companies and new industries that create new jobs come from?

Fred Block and Matthew Keller, two American sociologists, tried to get a sense of this by analysing the 'Top 100' innovations that R&D Magazine has recognised, every year for the past 40 -- a list as revered in the research and development community as the Oscars are in the movie industry.

They found that in the 1970s, large firms like General Electric, General Motors and 3M used to dominate these awards -- but these have rarely won in recent years.

The vast majority of recent winners are from United States government laboratories run by the defence department, the National Institutes of Health or universities whose research funding comes from the federal government or from small firms spun off from universities.

This trend is also reflected in the employment of Ph D scientists and engineers, 75 per cent of whom are now employed in firms with less than 500 employees.

The overall picture is that the largest corporations in the United States no longer are central to innovation, and their place has been taken up by university-spin-offs and government labs.

What makes the United States government labs successful in innovation, say Professors Block and Keller, are programmes like the Small Business Innovation Research programme, under which federal agencies with large budgets are required to use 2.5 per cent of their budget to support firms with less than 500 employees.

The SBIR programme awards up to $100,000 in no-strings support for each early stage project and up to $750,000 each for projects that have shown significant progress in meeting their initial goals.

In 2004, the year the researchers gathered their data, this amounted to more than $2 billion for some 6,300 separate projects.

It is worth noting that such SBIR awardees accounted for a fourth of R&D Magazine's 'Top 100' winners -- signalling to us the direction we need to look in in India.
(Ajit Balakrishnan, the founder and CEO of rediff.com, is the author of The Wave Rider: A Chronicle of the Information Age.
ajitb@rediffmail.com)
The image is used for representational purpose only