Having endured a "strange" feeling while walking under the IOC flag in the opening ceremony of Sochi Winter Olympics, Himanshu Thakur is a relieved man now as he will be able to take part in the closing ceremony under the tri-colour after the world body lifted the ban on the country.
Shiva Kheshavan, Himanshu Thakur and Nadeem Iqbal took part in the opening ceremony on February 7 under the flag of International Olympic Committee as they entered the Games as Independent Olympic Participants.
But now they will be able to walk under the tri-colour at the closing ceremony on February 23 after the International Olympic Committee (IOC) lifted the suspension on Indian Olympic Association following IOA's election on Sunday.
Himanshu and Iqbal will also be able to compete as Indian athletes.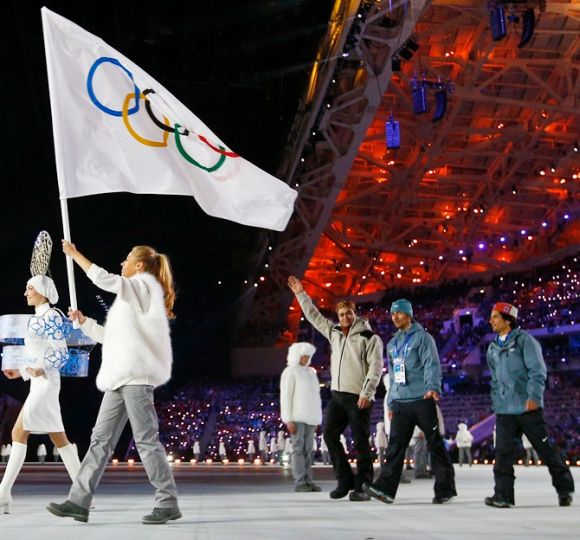 Keshavan has completed his event on Sunday as he finished 37th in men's singles luge competition, but Himanshu and Iqbal are yet to begin their campaign. Cross Country skier Iqbal has his 15km Classic run event on February 14 while Alpine skier Himanshu's Giant Slalom event begins on February 19.
"It was a strange feeling that we three had to walk under the IOC flag during the opening ceremony. It's my first Winter Olympics and I was feeling bad that I would compete under IOC banner. But now I am going to take part as an Indian athlete.
What more can I ask for, it's something I had not thought of. It was a surprise," Himanshu said.
"Now I can proudly tell other athletes in the Games Village that I am competing as an Indian athlete. It's an amazing feeling now that I will carry the name India on my dress and other equipments," Himanshu said.
Roshan Lal Thakur, the Secretary General of Winter Games Federation of India, who is in Sochi, said the Indian contingent is expecting the tri-colour to be hoisted at the Games Village very soon.
"We have been told by the organisers to change the accreditations and we have got a new ones which write India on them instead of the IOP earlier. There will be a flag hoisting ceremony and we are waiting for a communication from the organisers," he said.
Thakur now has a job at hand as he will have to change the suits of Himanshu and Iqbal so as to have India on them.
"Since they are not participating as Indian athletes, their suits do not have India on them. So we have to now print India on their suits.
"We will need new suits and each suit cost more than 500 Euros. So we have to see how we can procure the suits. There is still time," he said.