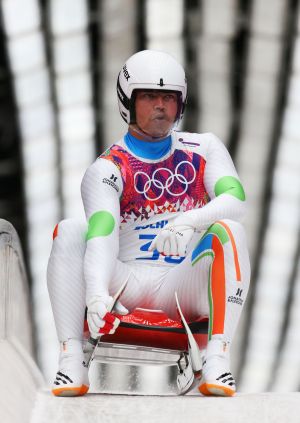 Out of contention for a medal, India's Shiva Keshavan remained at a disappointing 37th spot after third and penultimate round of men's singles luge competitions in the Sochi Winter Olympic Games on Sunday.
The 32-year-old Indian, who is on his fifth Winter Olympics, clocked a combined 2:44.604 after three rounds to lie at 37th out of 39 lugers in the competition at the Sanki Sliding Center here.
Keshavan, who was competing under IOC flag as an Independent Olympic Participant due to the suspension of the Indian Olympic Association, finished 37th in the third round, clocking 54.706. He was also on 37th after two rounds on Saturday.
Only one round remained in the competition. The medal winners will be decided according to the combined timings of the four rounds.
This could be Keshavan's worst performance in the Winter Olympics. He had finished 28th in Nagano (Japan) in 1998, 33rd in Salt Lake City (USA) in 2002, 25th in Torino (Italy) in 2006 and 29th in Vancouver (Canada) in 2010.
Two other Indians are also competing in the Games. Cross Country skier Nadeem Iqbal will start his competition in 15km Classic run on February 14 bwhile Alpine skier Himanshu Thakur's Giant Slalom event begins on February 19.
Image: Shiva Keshavan
Photograph: Alex Livesey/Getty Images