In a bid to put an end to the drug controversy, the Sports Ministry on Monday directed the National Anti-Doping Agency (NADA) to immediately carry out dope tests on star boxer Vijender Singh, who has been accused of consuming heroin by the Punjab police.
Almost a month after Vijender's name surfaced in the drug scandal, the Sports Ministry stepped in to clear the air on the issue by subjecting the ace pugilist to dope tests.
In a communication to NADA Director General Mukul Chatterjee, the ministry said the reports in the media regarding alleged consumption of heroin by Beijing Olympic bronze medallist Vijender were disturbing and the direction to conduct a test on the boxer although its out-of-competition.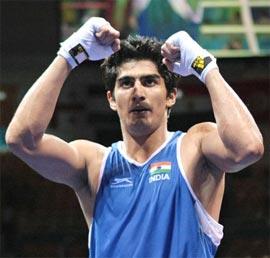 "Such reports in respect of a sporting icon are disturbing and may have a debilitating influence on other sportspersons in the country.
"It has, therefore, been considered necessary that NADA gets a test carried out on Vijender Singh for his reported use of heroin even out-of-competition," a statement from the ministry said.
"The communication has asked NADA to carry out the test immediately under intimation to the Ministry," it added.
Vijender, who has denied having consumed heroin, could not immediately be reached for his comments on the latest development.
Punjab Police on Sunday claimed that Vijender had consumed heroin 12 times after procuring it from alleged drug smugglers, including NRI Anoop Singh Kahlon.
"As per investigation conducted so far, Vijender Singh consumed the drug about 12 times and Ram Singh (his sparring partner) about five times," a Punjab Police statement had said.
Kahlon, alias Ruby, the alleged Canada-based drug dealer, was arrested by the police on March 3 and 26kg of heroin worth Rs 130 crore was seized from his residence in Zirakpur on the outskirts of Chandigarh.
A Punjab police spokesperson said, "It has been established that boxers Ram Singh and Vijender Singh took heroin from Kahlon and his aide Rocky for personal consumption between December 2012 and February 2013."