Haryana Chief Minister Bhupinder Singh Hooda on Sunday said he does not think boxer Vijender Singh has any involvement with the drug haul case in Punjab, stressing that law would take its own course.
-Ram Singh expelled from National Camp
-We mistook drugs for food supplements, says boxer Ram Singh
-I am shocked, don't have links with drug dealer: Vijender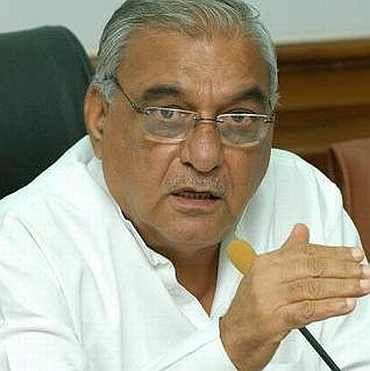 The Chief Minister was asked to comment on the Olympic medallist's name cropping up in connection with the Rs 130 crore heroin haul in Punjab's Zirakpur recently.
Hooda told reporters, "I don't think that Vijender would have such involvement, but the law would take its own course."
The 27-year-old Vijender, a DSP with Haryana Police, has steadfastly denied involvement in the scandal. Serving as a head constable with Punjab Police, Ram Singh, a former National Championship medallist in the super heavyweight category and Vijender's sparring partner, told reporters in Fatehgarh Sahib, Punjab, that he and Vijender experimented with drugs on a few occasions.
Earlier, addressing a gathering at the 98th annual function of Mahavidyalaya Gurukul at Jhajjar, Hooda while describing Sanskrit as the mother of Indian languages, said it was our moral duty to promote it.
"The Gurukuls symbolise modern and ancient education system, therefore, while providing job-oriented education one should not confine to only one subject. The Gurukuls should take steps to provide job oriented education," he added.
He reminded that the Jhajjar Gurukul was set up to change the mindset of people about casteism.
He said that in 1942 Swami Omanand Sarswati visited Jhajjar Gurukul and it had made phenomenal development in promotion of education.
Hooda said the education and health facilities were important for development of every society.