Footballers in several Eastern European countries are battling a bizarre situation where they are considered self-employed and have to pay tax even when clubs do not pay them, says world players' union FIFPro.
Players in the region continue to struggle to get paid on time, leaving them vulnerable to offers from match-fixers who can be relied upon to pay punctually, a FIFPro director told Reuters in an interview.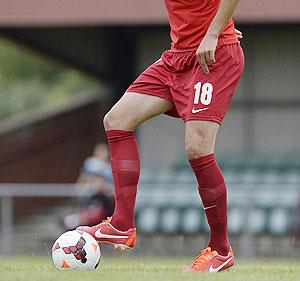 "Sometimes, the only people who pay them on time are the match-fixers," said FIFPro board member Dejan Stefanovic.
"I've heard of players who have been so desperate that they have rung up match fixers asking if they need any games to be manipulated."
Stefanovic was speaking on the sidelines of a tournament featuring out-of-contract players from Switzerland, Bulgaria, Greece, Slovenia and Serbia, one of several organised each summer around Europe.
He said most of the players at the tournament would happily accept offers of 3,000 euros a month from new clubs, whereas three years ago the going rate was about 10,000.
But even if they found a new club, the problems for the Eastern European players were only just beginning, Stefanovic warned.
Stefanovic, who helped prepare FIFPro's so-called Black Book documenting the worst cases of mistreatment of players in Eastern Europe, said one Slovenian at the tournament tried to leave his last club because he had not been paid for five months.
"Even though they had not paid him, they demanded he pay a buy-out fee of 400,000 euros, when he was only earning 800 euros a month," said Stefanovic, who is also head of the Slovenian Players' Union SPINS.
Croatia, Slovakia, Slovenia and the CzechRepublic all use the system where players are treated as self-employed and are responsible for paying their own social security and tax bills, FIFPro said.
TAX BILL
"It's quite incredible but the player has to pay these tax, social security and pension contributions even if the club does not pay him," said Stefanovic.
"The contributions are calculated against the bill which the player issues and sends to the club. It doesn't not matter whether he gets the money or not."
"Also, how can a footballer, who plays in a team sport, be self-employed? It's not as if you can go and play for somebody else in your spare time."
He said the practice was especially prevalent in Croatia where clubs are in a notoriously difficult situation.
A report by FIFPro in June said only five out of the 12 clubs in the Croatian first division paid their players on time, with an average delay of six months.
A study by the Croatian players' union said 83 percent of players would prefer a lower salary in exchange for being treated as ordinary employees and 43 percent said it was "very difficult" to pay for their daily needs.
Stefanovic said that even starting out in the career was difficult, with parents expected to fork out for the kit and the players expected to pay the club for their training.
"And, yet, the clubs still want contributions for training the players," he said.
His advice to youngsters would be to look for a different profession.
"I would tell kids to forget it and, if you do try, to make sure you study and have an alternative."
"Why do they do it? Everyone wants to follow their childhood dream but it's like a lottery. They hope to get something, they dream of playing in the Champions League, the national team."
"They hope and hope, and many end up getting divorced, working in the fields and picking crops just to survive."
Photograph: Getty Images