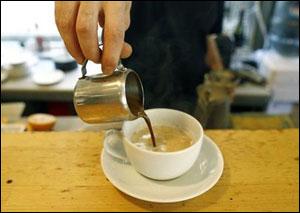 Tata Coffee, India's second-largest producer of instant coffee, is aggressively looking to expand its business by acquiring companies.

It is currently scouting for suitable firms in Europe and planning to close the deal some time this year, a top company executive said.

"We have just completed expansion in our instant coffee business by increasing the extraction capacity by 33 per cent to 8,500 tonnes at Theni in Tamil Nadu at an investment of Rs 80 crore (Rs 800 million).

"We are now looking at further expansion through an acquisition, mainly in Europe, which is nearer to our customers," said Hameed Huq, managing director, Tata Coffee Limited.

He added the company is looking at acquisition as part of its vision to become a Rs 1,000-crore (Rs 10-billion) company by 2015.

For the year ended March 31, the firm recorded 17.7 per cent growth in top line to touch Rs 598 crore (Rs 5.98 billion).

Instant coffee contributes about 55 per cent of its total sales presently.

"To achieve Rs 1,000-crore (Rs 10-billion) turnover, it is essential for us to acquire a company in Europe and we have time till 2015 to achieve this target," said Huq.

Simultaneously, Tata Coffee is also exploring an option of setting up an instant coffee (also known as freeze-dried coffee) processing unit in Europe with a capacity of 4,500 tonnes, he said, provided an acquisition does not come through.

The company is looking at an investment of close to Rs 400 crore (Rs 4 billion) for the proposed expansion.

"Our strategy is to be present nearer
to our customers.
"There is a huge potential to grow our business in European countries and we want to acquire a company there.
"There are some good opportunities available for us to acquire companies there.
"We have seen various facilities but yet to finalise any specific target company at the moment," Huq told
Business Standard
.
The company wants to have its new plant in Europe and source coffee from around the world.
Huq added that with the completion of expansion at the Theni facility in Tamil Nadu, Tata Coffee has emerged as the second largest instant coffee maker and the capacity had increased to 8,500 tonnes a year.
The company imports almost 90 per cent of the required coffee beans from across the world for this facility.
Annually, total global soluble trade is estimated to have grown from less than 360,000 tonnes in 2005 to almost 440,000 tonnes in 2011, equivalent to an average annual growth rate of four per cent.
Soluble trade is dominated by spray-dried products.
Freeze-dried exports have reached close to 95,000 tonnes a year, around 23 per cent of global soluble trade, according to LMC International, a UK-based independent economic and business consultancy for the agribusiness sector.
Western Europe, eastern Europe, east Asia, Asean (Association of Southeast Asian Nations, a trade bloc of 10 countries) and North America (including Mexico) are the most important markets for instant coffee.
Tata Coffee recently reduced its dependency on Russia and turned its focus to West Africa, Japan and southeast Asian countries, said Huq.
By increasing its capacity, Tata Coffee wants to compete with global instant coffee entities such as Kraft and Nestle.