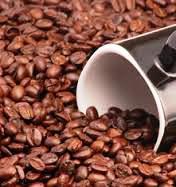 To cash in on the growing consumption of coffee in the domestic market, the Bengaluru-based Tata Coffee is looking at vending solutions to offer innovative products and services.

The company is already supplying coffee beans to cafes, instant coffee to Hotels, restaurants and catering segment, vending and various other establishments. Going forward, it plans to look at vending solutions on its own.

According to the company's Annual Report domestic coffee consumption has been growing steadily over the last several years, driven by double digit growth in instant coffee category and out of home consumption.

"India will see the increased emergence of private label brands due to the increased share of modern trade.

"Rural markets and semi urban markets are expected to drive consumption. Freeze dried coffee is expected to form a new segment in the domestic market," the company said.

The company, however, has said health and wellness platform being appropriated by other beverages, could limit growth in coffee consumption.

New technologies in vending could also increase competition in the domestic market.

The current global soluble (instant) coffee market is around 707 million kg and is forecast to reach up to 814 million kg by the year 2017.

The overall soluble coffee consumption is expected to grow at a CAGR of 2.7 per cent till 2017, where as spray and agglomerated coffee at 2.2 per cent and Freeze dried coffee at 4.5
per cent.
The major threat for the company's Soluble Coffee Division is the volatile prices of green beans, rising energy costs and emerging low cost producers.
"The company is making efforts to mitigate these risks by consolidating in the non-Russian markets through development of new products and channel partners.
"Untapped opportunities exist in parts of Africa, Asia, Eastern Europe which should yield good results," the company said. To handle the price volatility of coffee beans, Tata Coffee has taken several steps like optimising the inventories and close tracking of the market terminals.
The experience of plantation business is proving to be the competitive edge.
The utilities (power and water) threat at manufacturing sites are growing large and is being addressed by switching to renewable energy sources and optimisation techniques. Tata Coffee's overall coffee production has increased by 7.7 per cent to 8,396 tonnes during 2012-13 as against 7,797 tonnes last year.
In the biennial cycle, the production of Arabica crop has been lower at 1,542 tonnes for the year as compared to 2,129 tonnes in the previous year.
"The decline in Arabica production has been witnessed across all districts in Karnataka due to irregular rainfall and prolonged dry spell during the crucial period, which apart from reducing the crop yield, has increased the incidence of pest and disease especially white stem borer," the company said.
As regards Robusta, the company has achieved a production of 6,800 tonnes in FY13 as against 5,667 tonnes in the previous year.