Bollywood actress Tara Sharma will be among the 20,000 runners in Sunday's Standard Chartered Mumbai International Marathon.
For someone who spends a lot of her time in front of the camera, running is nothing new.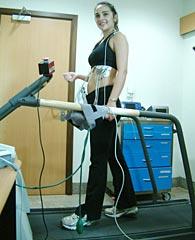 "I run at the Mahalaxmi race course almost every evening, depending on my shooting schedules."
Tara, who has acted in Anupam Kher's Om Jai Jagdish and Tanuja Chandra's Saaya, feels the marathon is the best thing to happen to Mumbai.
"It's a good thing that Mumbai is hosting such a big event, where people from all over the world participate," she said.
On Sunday, she will run for Magic Bus India, to raise funds for the charity.
Magic Bus India is a non-profit organisation, which looks after the well-being of underprivileged children in Mumbai.
Magic Bus provides less privileged kids a break from the drudgery of their slum or pavement life and teach them more about themselves and their environment through outdoor activities, creative workshops and sport.
"It's a good thing I can raise money for charity while running the marathon. I will try to collect some money for Magic Bus through personal pledges, from family, friends and relatives. Plus, I have a contract with L'Oreal and Garnier. Through them I will raise some money for the charity," she says.
The actress, who has entered the 7-km Dream Run, feels the weather could make things difficult for the runners.
"It will be difficult to run in the heat. Though the race begins in the morning, the hot sun later on will certainly play a part."
Tara is used to running long distance races, having previously participated in the Hope Run.
"The Hope Run is a kind of charity run. It is for a distance of eight kilometres. I have featured in the last two Hope Runs and successfully completed it."
Despite her experience and daily training, Tara is nervous about Sunday's marathon.
"I feel so much pressure this time," she confesses. "So many people and the media are asking me about the marathon. I am feeling very nervous."
Tara actively does power yoga. Whenever time permits, she frequents the gym and also swims to stay in shape.
She certainly looks good enough to go the distance.