A summary of sports events and sports persons, who made news on Wednesday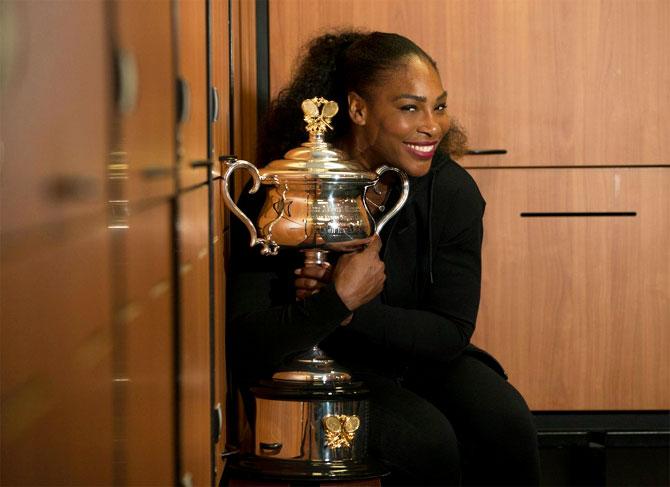 IMAGE: Serena Williams shows off Daphne Akhurst Memorial Cup in the locker room after winning the Australian Open title. Photograph: Australian Open/Twitter
Former World No 1 Serena Williams has yet to make a decision about her participation at the Australian Open, while World No 12 Svetlana Kuznetsova is also a doubt for the first grand slam of 2018 after undergoing wrist surgery.
Williams was around two months pregnant when she captured her 23rd grand slam singles title in Melbourne earlier this year and was hoping to defend her crown next January following the birth of her daughter in September.
"Serena is getting ready for 2018," the 36-year-old American's coach Patrick Mouratoglou told CNN.
"She is practicing and getting back in shape. I will be joining her soon in Florida.
"We will see how her body is reacting and how her tennis level is and we will take a decision regarding Australia."
Russian Kuznetsova told local media that she was recovering from wrist surgery conducted earlier this month after separate injuries to the area and said there was no specific time frame for her return.
"I had two injuries in my wrist, so I had to do the operation," the 32-year-old double major winner said.
"There's a very complicated diagnosis. I'm still recovering and the doctor does not talk about specific dates when I can start training and play. Australia, most likely, I will have to miss."
Meanwhile, Victoria Azarenka, who has not played since July due to an ongoing child custody battle, is set to return at the ASB Classic in January but will be without coach Michael Joyce, who released a statement on their partnership.
"Vika is an extremely talented player. While I am excited to see her return to tennis, I encourage and respect her decision to put her family first," Joyce said of the Belarusian two-time Australian Open champion and former world number one.
"It is with deep regret that I have decided to move forward with my coaching career while she continues to work out her private life. I look forward to seeing her on the tour soon and wish her the best of luck."
The Australian Open will be held from January 15-28.
Intensity dropped after winning F1 Championship: Hamilton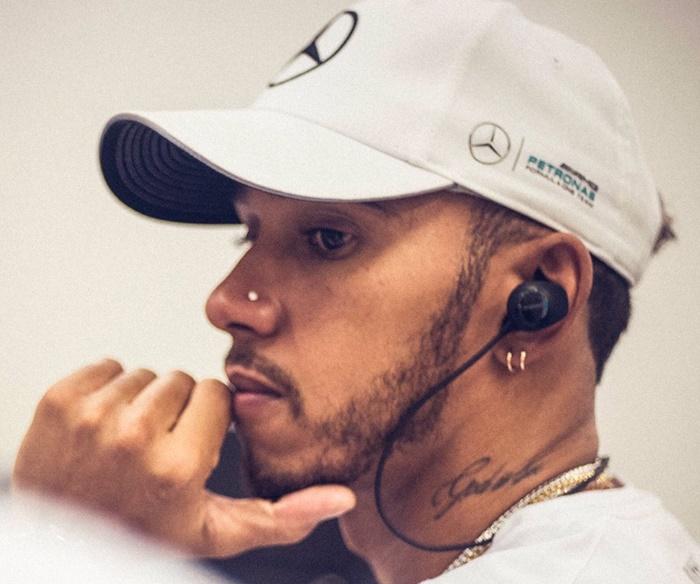 IMAGE: Lewis Hamilton revealed that he has been partying with family and friends since winning the 2017 F1 Championship. Photograph: Lewis Hamilton/Twitter
Mercedes driver Lewis Hamilton has admitted that he has failed to generate the same intensity as he had shown during the entire year since being crowned four-time world champion.
The British driver became a four-time world champion following a ninth-place finish at the Mexican Grand Prix, the race which was eventually won by the Red Bull's Max Verstappen.
However, Hamilton failed to continue the momentum as he finished at the fourth and second spot respectively in the final two races of his spectacular 2017 season.
Though the 32-year-old conceded that his performance levels did take a dip after clinching the title, he insisted that he has "zero concerns" ahead of 2018.
"There's zero concern. And all I can say is, the week after I won the championship I partied a lot, with my family, and celebrated, and that's what you do," Sport24 quoted Hamilton, as saying.
"I have tried my hardest to stay on it but I wouldn't say it was 100% of what it was while in the season. You want to enjoy it. I do still try and turn up and do the job but it's not so easy. I can tell you that before all the other races that was not the case," he added.
Hamilton further emphasised that his approach to races was affected as a result of his celebrations after being crowned champion. He, however, expressed confidence that he would be able to quickly switch back to the mentality that made him a champion.
"So sleep, energy has definitely been different on these last couple of races. But nonetheless I still tried to approach them the same," Hamilton said.
"But if you don't prepare the same, there's no way. So I'm not bothered about that. And next year that will go back to how it was in the second half of the season," he added.
Hamilton spent much of his time in the Abu Dhabi Grand Prix chasing his Mercedes team-mate Valtteri Bottas around the 21-corner track. He eventually finished at the second spot to hand victory to Bottas in the season's final race.
IOA formally recognises Boxing Federation of India
The Boxing Federation of India (BFI) was on Wednesday recognised as a national body by the Indian Olympic Association, which removed the terminated Indian Amateur Boxing Federation (IABF) as its affiliate after months of indecision.
The BFI, already recognised by the International Boxing Association (AIBA) and the Sports Ministry, finally got the IOA's nod, which had IABF registered as the official body till now.
"The Olympic Charter clearly says that the sporting federation must be recognised by the international body. So they just followed that. The BFI has been recognised by the AIBA. Therefore the IOA has ratified the Olympic charter. It was a unanimous decision," BFI President Ajay Singh told PTI on the sidelines of an IOA meeting here.
The IOA's decision is expected to end the IABF's attempts at reviving itself.
The body, which was first suspended and then terminated by AIBA for manipulation in elections, has been trying to keep itself afloat by organising a couple of meetings with its former members in the past few months.
The Sports Ministry had earlier barred IABF from using India as it was no longer a national federation.
The BFI assumed office last year after elections conducted in the presence of observers from the AIBA and the Sports Ministry.