News of all that's transpired on and off the football field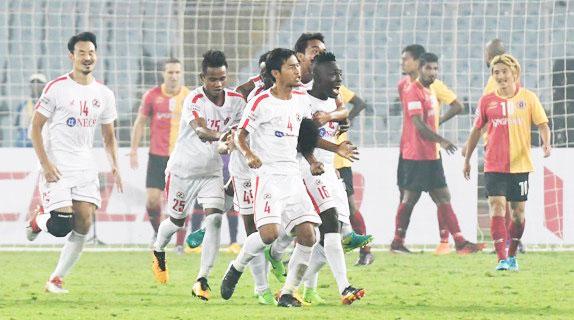 IMAGE: Aizawl FC William Lalnunfela celebrates with teammates after scoring the winning goal against East Bengal during their I League match in Kolkata on Tuesday. Photograph: I-League media
Aizawl FC forward William Lalnunfela completed a brilliant brace in the dying minutes to hold East Bengal 2-2 in their thrilling I-League opener at the floodlit Salt Lake Stadium in Kolkata on Tuesday.
Two former Mohun Bagan teammates, Eduoardo Ferreira and Katsumi Yusa, combined well to give East Bengal the lead in the 66th minute and the latter made it 2-0 within six minutes.
After a goalless first hour, all the action centred around the second half as the reigning champions reduced the margin through their 22-year-old forward two minutes after East Bengal took a 2-0 lead.
There was more misery in store as East Bengal blew up the fantastic lead to drop points, much like their arch-rivals Mohun Bagan, as Lalnunfela struck from a goalmouth melee in the stoppage time (90+6th minute).
East Bengal and Mohun Bagan will now head to the season's first I-League derby on December 3 with a draw each.
FIFA will not tolerate racism at 2018 World Cup: Infantino
FIFA president Gianni Infantino has said racism will not be tolerated at next year's World Cup in Russia, adding that referees will have the power to stop or even abandon matches if discriminatory incidents take place.
Several players, including Brazil and former Zenit St Petersburg forward Hulk, have voiced concerns that racism could mar the tournament, saying such incidents are a regular feature of domestic league games in the country.
Infantino said in a video statement that anti-discrimination was a "high priority" for FIFA, and that the organization would deal with offences firmly.
"We'll make sure that no incidents will happen and... we have for the first time in a World Cup the so-called, three-step procedure where a referee can stop a game or even abandon a game if there are discriminatory or racist incidences," he added.
"We will be very, very firm on that so we can expect fair play in Russia."
Infantino, who was elected FIFA president in February of last year, also said technology would play a big role at the tournament, although a final decision on using video assistant referees (VARs) would only be taken next year.
Ex-Barca chief Raul Sanllehi joins Arsenal
Arsenal have appointed former Barcelona director of football Raul Sanllehi as head of football relations, the club announced on Tuesday.
Sanllehi will start in February after 14 years at Barcelona, working alongside manager Arsene Wenger in a further sign of restructuring at the Premier League side.
Sanllehi, who is credited with bringing Neymar to Barca, will take the lead role in future signings but, significantly, he has not been appointed director of football, a position Wenger has criticised in the past.
Arsenal chief executive Ivan Gazidis said: "Raul has extensive contacts across the football world and has been directly involved in some of the biggest transfers in Europe in recent years. We look forward to him bringing that expertise to Arsenal."