'It's only 13 games in, that's the most important thing and there's so many points to be won. You need to carry on for 38 games and show consistency'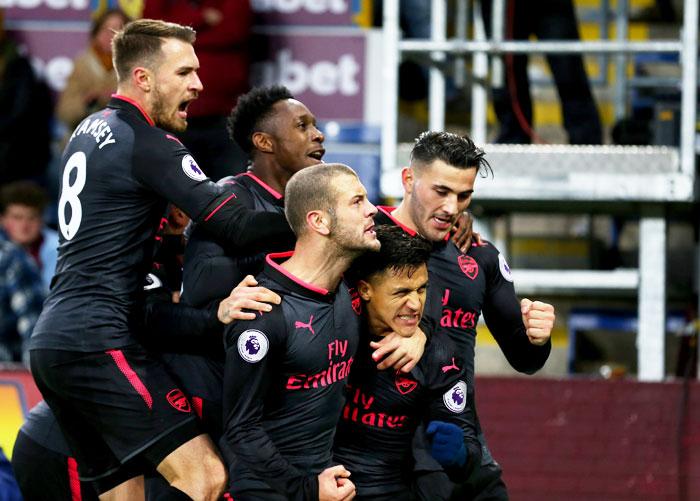 IMAGE: Arsenal's Alexis Sanchez celebrates scoring a goal with teammates Aaron Ramsey, Jack Wilshere, Danny Welbeck and Sead Kolasinac during their English Premier League match against Burnley at Turf Moor in Burnley on Sunday. Photograph: Jan Kruger/Getty Images
Petr Cech believes Arsenal can compete for the Premier League title but said they will need to pick up points on a consistent basis, especially away from home.
Alexis Sanchez's late penalty gave Arsenal a 1-0 win at Burnley on Sunday that lifted them into fourth place on 25 points, one ahead of local rivals Tottenham Hotspur.
They trail leaders ManchesterCity by 12 points but Cech said it was too early to rule them out of the title race as they prepare to host promoted HuddersfieldTown on Wednesday.
"We need to play game by game and not think too much about what's going on around us because the only way is if you win your game you give yourself a chance," the 35-year-old goalkeeper told the British media.
"The teams at this moment who are above us, if they keep going and keep winning, then you can't catch them, but you need to make sure that you win your game first and then let's see what will happen.
"It's only 13 games in, that's the most important thing and there's so many points to be won. You need to carry on for 38 games and show consistency."
Arsenal have enjoyed a perfect record in six home league games this season but have struggled to build momentum having lost four of their seven matches on the road.
"Apart from the Everton win away, a good result at Chelsea (draw), we haven't been getting results away from home.
"Hopefully we've turned the corner in terms of the away games and we need to carry on with our home form. If we can get as many away points as well then we will climb up the table."
Arsenal will not sell Ozil and Sanchez in January: Wenger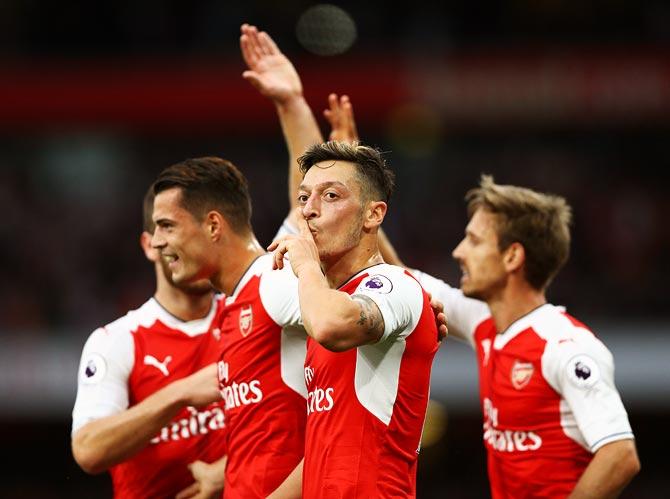 IMAGE: Mesut Ozil will stay till the end of the season, reckons Arsenal boss Arsene Wenger. Photograph: Paul Gilham/Getty Images
Arsenal manager Arsene Wenger has ruled out selling Mesut Ozil and Alexis Sanchez in the January transfer window "unless something unbelievable happens."
Both players are out of contract in the summer and have been the subject of repeated speculation that they may leave, with Ozil a reported target for Manchester United and Barcelona, and Sanchez the subject of a failed bid from ManchesterCity last summer.
Speaking ahead of Wednesday's game with HuddersfieldTown, Wenger was asked whether he thought both would still be at the club when the January transfer window closes.
"Yes, of course," he said.
"I rule it out. I don't think every day about that.
"As long as they are here they give their best for the club. In my head they stay until the end of the season, unless something unbelievable happens I don't see that changes."
If neither player signs a contract extension, each could begin negotiating with other clubs in January ahead of a summer move.
When asked whether he thought the pair would remain at the club long term, Wenger said: "I am not the only one to decide that. They have to decide that as well."
Wenger also spoke about the future of Jack Wilshere, who has also been linked with a move after failing to nail down a regular first-team place this season.
"I always considered his interests because he has been an Arsenal player since a kid," said Wenger.
"My first priority is what is best for him.
"I have to consider the interests of Jack Wilshere and Arsenal. If I think it's in his best interest to stay here, I will fight 100 percent for that."