Andy Murray forgot the score in the heat of a thrilling semi-final battle against David Ferrer on Friday before grinding past the resilient Spaniard 4-6, 7-6, 6-1, 7-6 to reach a second successive Australian Open final.
The fifth seed was a point away from trailing by two sets to love before recovering to raise British hopes of ending a 75-year drought for a men's singles grand slam champion.
He will face Serbia's Novak Djokovic in Sunday's final.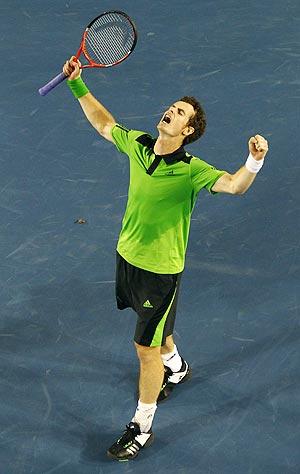 Murray, runner-up to Roger Federer last year, was actually unaware of how deep a hole he was in against the seventh-seeded Ferrer on a chilly night at Rod Laver Arena when he served at 4-5, 30-40 in the second set.
"You are probably not going to believe this but I actually thought it was 4-3, I didn't know until the umpire called five all at the end of the game," Murray, who saved the situation with a booming first serve, said on court afterwards.
"So that probably helped me ... It happens occasionally but not in a match like this. I was so focused, I was pretty wrapped up in it and lost track. I hope it doesn't happen again."
Having stared a two-set deficit in the face against a player he described as "a brick wall" Murray dominated the tiebreak and mowed mowed through the third set as Ferrer's phenomenal baseline resistance finally began to wane.
Murray appeared to be coasting at 2-0 in the fourth but after wasting the chance for a double break Ferrer rallied to edge 5-4 and then 6-5 ahead.
In the second tiebreak of the match, played in an electric atmosphere, Murray ratcheted up the pressure with some brilliant serving to bring up five match points, before sealing it 7-2 with a deft half-volley.
"He's an unbelievable athlete, unbelievable competitor, it was an unbelievably tough match and I managed to come through but he's such a tough player to play against," Murray, drenched in sweat after countless brutal exchanges, said.
"I don't think everyone gave (Ferrer) the respect he deserved after he beat Nadal but I certainly did.
"In the second set I started to go for my shots a bit more and it paid off bit it was a tough semi-final."
Murray will happy for a rest day on Saturday as he prepares to play Serbia's in-form Djokovic, hoping to become Britain's first men's champion at a grand slam since Fred Perry in 1936.
"He's obviously playing great tennis," Murray said of world number three and 2008 champion Djokovic, who thumped Federer on Thursday. "He's been there before, we both have.
Any thought that Ferrer's victory over world number one Rafael Nadal in the last eight had given Murray an easy passage into the final were quickly banished as the players shadow-boxed for the first six games.
Murray landed the first blow, pressuring the Spaniard into a backhand push that landed wide for the first service break but Ferrer broke back immediately before saving two break points following an epic 41-stroke rally.
Refusing to be bullied, Ferrer won another long baseline duel before a rattled Murray pushed a backhand wide to concede the first set and trudge listlessly to his chair with 14 unforced errors to his name.
Despite breaking Ferrer in the first game of the second, Murray's malaise refused to lift as he handed the break straight back by dumping a lazy backhand into the net.
Murray's serve sprung him from jail three times on breakpoints at 3-3 but the most crucial moment was the serve he carved down the middle to fend off the set point.
"I think I wasn't mentally tough," was Ferrer's rater harsh verdict. "Lot of rallies and had set point in the second set but in important moments he served very well."
Ferrer crumbled in the second set tiebreak and was swamped by Murray's aggressive play in the third which began with a flock of seagulls swooping low over the court.
Flustered, Ferrer kicked over a sponsor's sign before being broken to love as Murray twisted the knife to take a 2-0 lead in the fouth set. But he was was not finished.
Murray took his foot off the Spaniard's throat, netting a forehand to allow his opponent to break back to 2-1, and the players jousted for the next 10 games as tension reached boiling point in the 15,000-seat arena.
Twice Murray's serve proved dependable to prevent Ferrer squaring the match but when another tiebreak arrived he found another gear to close out an enthralling contest and reach his third grand slam final.