Michael Phelps said he hoped he had not left his push for the London Olympics too late as he tries to improve his times and form with the US Olympic trials coming next month.
"I think the biggest thing right now is just being able to make steps in the right direction," 14-time gold medalist Phelps said at the US Olympic Committee media summit in Arlington, Texas. "I think I've caught up a lot."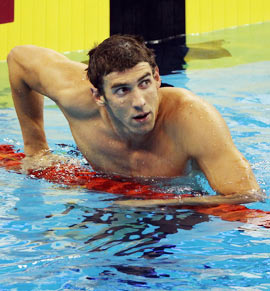 In the four years since he won eight gold medals at the Beijing Olympics, Phelps has failed to reach those same dizzy heights.
He suffered defeats at the each of the past two world championships and just a few days ago, at the Charlotte Grand Prix, one of the final lead-up events before next month's US Olympic trials, he was beaten in both the 200 metres freestyle 200m butterfly.
"Michael swam some decent times for the training he's doing right now," his long-time coach Bob Bowman said.
Phelps and Bowman hope an extended training session at altitude in Colorado will accelerate his return to form.
"We are heading to Colorado tomorrow and we always seem to be able to put in some good work out there and hopefully we can cap off on some little, small things we've been working on and see them making big differences once we get to trials," said Phelps.
Phelps admitted he tuned out from swimming for a couple of years following his record haul in the Chinese capital.
As he drifted away from the pool, his fellow-American Ryan Lochte established himself as the dominant swimmer in the world.
"I put myself in that spot, put myself in the spot of not swimming the times that I want," Phelps said. "He (Lochte) was rolling over me. It wasn't fun to be on that end.
"Last year I kind of woke up, it got to me somehow. I was like, 'this is so frustrating, super-frustrated me.' I'm doing everything I can to try and fight back and hopefully I didn't fall too far behind."
Bowman said it was natural for people to focus on the rivalry but Phelps was not motivated by it.
Photograph: Clive Rose/Getty Images