Miami Heat forward LeBron James was named on Saturday as the National Basketball Association's Most Valuable Player for the 2011-12 season.
It was the third time in four years that the 27-year-old James had won the game's most prestigious individual award, elevating him to one of the sport's greatest players.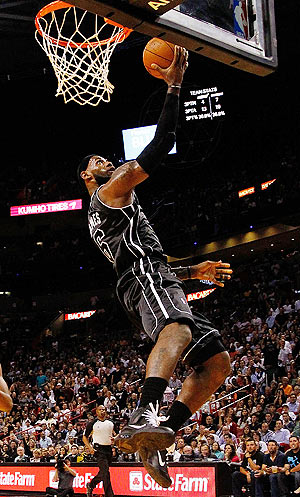 Only seven other players -- Kareem Abdul-Jabbar, Michael Jordan, Bill Russell, Wilt Chamberlain, Larry Bird, Magic Johnson and Moses Malone -- have won the trophy at least three times.
Abdul-Jabbar holds the record for six MVP wins, one ahead of Jordan and Russell.
"I never dreamt about being an NBA Most Valuable Player," an emotional James said.
"I never dreamt about doing the things that I do now at a high level.
"Now that it's in me now, and it's happening, it's overwhelming."
James, who twice won the award with the Cleveland Cavaliers before moving to Miami last season, averaged 27.1 points, 7.9 rebounds and 6.2 assists during the 2011-12 regular season, which was shortened to 66 games because of a labor dispute.
He totaled 1,074 points, including 85 first-place votes, from a panel of 121 voters that decided the award.
Oklahoma City's Kevin Durant, the leading scorer for the third season in a row, finished second in the vote, followed by Chris Paul of the Los Angeles Clippers and Kobe Bryant from the Los Angeles Lakers.
Chicago's Derrick Rose, who won the MVP award last year, finished 11th in the voting after missing more than a third of the season because of injury.
Photograph: Mike Ehrmann/Getty Images