Roger Federer left a lasting impression on the Madrid Open's controversial blue claycourt by grinding out a 3-6, 7-5, 7-5 victory against Czech Tomas Berdych to match Rafa Nadal's record of 20 Masters titles on Sunday.
Spaniard Nadal, who fell in the third round and will lose his number two ranking to his great Swiss rival, was one of the most vocal opponents of the new surface, which he said was dangerously slippery.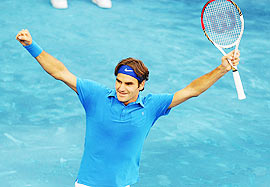 Federer, however, proved better able to adapt to the testing conditions and secured his fourth title of the season, and the 74th of his illustrious career, after edging a gripping final at the futuristic Magic Box arena.
"It feels amazing," Federer told spectators sweltering in the Madrid heat inside the Manolo Santana show court as his wife and twin daughters looked on.
"Look, it's been a tough tournament and tough to move but you just go on with it and try to make the best out of it," added the 30-year-old.
"There was some good tennis and there was some bad tennis as well, you see that in all the tournaments, but I thought the level of play under the circumstances was very good."
Federer came into the tournament following a month-long rest and is looking in ominous form as the world's top players prepare for the French Open starting in Paris later this month.
The 2009 Roland Garros champion had already won titles this year in Rotterdam, Dubai and Indian Wells and has only lost three times since falling to Djokovic in the US Open semi finals last September.
Nadal and World No. 1 Novak Djokovic have both have threatened not to return next year unless the traditional red dirt used at most other clay events is reinstated.
Organisers argue that the blue courts make it easier for television viewers to follow the yellow balls but the players' complaints may prompt the ATP, the governing body of men's tennis, to switch back to red clay next year.
Photograph: Mike Hewitt/Getty Images