India's protest against the controversial opening-round loss of boxer Sumit Sangwan (81kg) on Monday at the London Olympic Games has been rejected by the jury that reviewed his bout against Brazilian Yamaguchi Falcao Florentino.
-London Olympics 2012 - Complete coverage
- Unlucky Sangwan loses after brave fight
"The protest has been rejected. The reasons were not given to us but in cases like these, it is extremely rare that a protest is accepted and the decision overturned," national coach Gurbax Singh Sandhu said.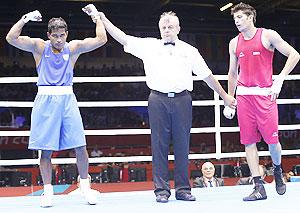 Sumit lost 14-15 to Florentino in a closely-contested bout which left the Indian team and Sports Minister Ajay Maken enraged, prompting a quick protest.
Sangwan found himself on the wrong side of the judges' scoring pattern as the boxer, despite dominating the second and third rounds, did not get enough points for his efforts.
"Sumit is fine now. Obviously, he was very upset with the result. But there is no other option but to accept things and move on. He will have his chances in future," Sandhu said.
Photograph: Murad Sezer/Reuters