Renjith Maheshwary crashed out of the men's triple jump competition at the London [ Images ] Olympics [ Images ] after fouling all three attempts in the qualification round on Tuesday.
-London Olympics 2012 - Complete coverage
Maheshwary, who won a bronze in the 2010 Commonwealth Games [ Images ] in Delhi [ Images ] and finished fourth in 2006 Asian Games at Doha, failed to produce a single legal jump and was eliminated without a mark against his name.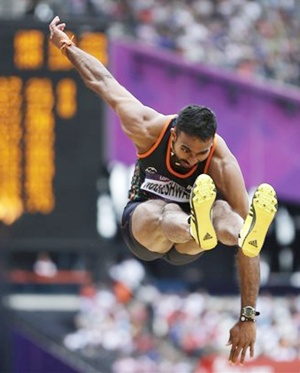 The 26-year-old athlete, whose personal best is 17.07, thus ended his campaign on a most disappointing note.
Twelve jumpers qualified for the final with Benjamin Compaore of France [ Images ] topping Group A with 17.06m mark, while Christian Taylor of USA emerged at the top in Group B with a clearance of 17.21m.
Maheshwary, after having booked his berth in the mega event, was cleared to take the journey to London by the Athletics Federation of India [ Images ] only after passing a fitness trial at his training base in Italy [ Images ].
AFI's contention was that he had not taken part in a competition for some time after qualifying for the London Games and his latest fitness levels could not be ascertained.
Later AFI Secretary General, C K Valson, informed that Maheshwary had undergone a trial in Italy and the federation was satisfied with his fitness.
"He has done a trial jump and came up with a 16.45m in nine strides at his training base in Italy. We have got the report and he has been cleared to take part in the Olympics," Valson had said.
Two other Games qualifiers -- marathon runner Ram Singh Yadav and woman triple jumper Mayookha Johnny -- were also asked to undergo the trials along with Maheshwary before heading for London.
Mayookha has already finished her event without qualifying for the finals, while Yadav is scheduled to run the marathon on August 12, the last day of the Olympics.
Photograph: Matt Slocum/AP Photo