China's Wang Mingjuan extended a 10-year unbeaten international record to win gold in the first women's weightlifting event of the London Games, giving the Chinese team a perfect start in their defence of four Olympic titles.
- London Olympics 2012 - Complete coverage
Wang, 26, eased to victory in the 48-kilogram weight division, lifting a combined total of 205kgs to the delight of the strong Chinese contingent in the 6,000-seat ExCel arena.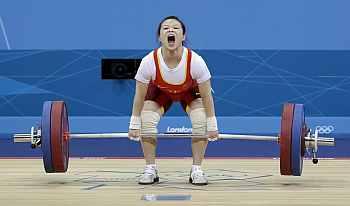 Lifting the heaviest weight in both styles of lift - the explosive one-phase snatch and the two-stage clean and jerk - Wang posted a total of 8kg more than silver-medal winner Hiromi Miyake from Japan.
Ryang Chun Hwa of North Korea took the bronze with a total of 192kg, edging out 17-year-old Sirivimon Pramongkhol of Thailand.
Thai Panida Khamsri, expected to be a strong medal contender, exited the competition early with three failures at 81kg in the snatch lift - 10kgs short of Wang's best weight - leaving the platform with what looked to be an elbow injury.
Wang was competing in her first Olympics, despite having won every international tournament she has participated in, after suffering major injury problems and missing out on selection for the Athens and Beijing Games.
The gold, China's second on the opening day of the Games, will come as relief for the selectors, who chose Wang in preference to 19-year-old reigning world champion Tian Yuan.
Photograph: Hassan Ammar/AP