Rising Indian golfer Anirban Lahiri's successful consecutive title triumph at the SAIL-SBI Open on Sunday helped him climb to the second spot in the Asian Tour Order of Merit.
Lahiri's walked home with a pay cheque of $ 54,000 which left him approximately $ 800 behind Tour leader Chawalit Plaphol of Thailand, who won the season-opening Zaykabar Myanmar Open.
Lahiri, who finished 10th in the 2012 Order of Merit, is now setting his sights on a first Asian Tour victory outside of India.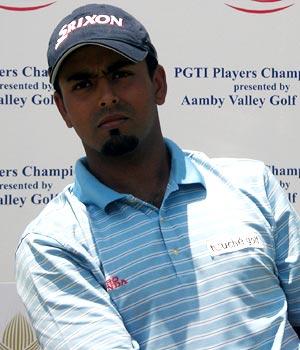 The rising star clinched his third Asian Tour title after defeating countryman Rashid Khan on the first play-off hole at $ 300,000 Asian Tour event at the Delhi Golf Club and immediately set a new target in his burgeoning career.
"There's a need to win always and to get better. There's a need to perform on every surface on every tour and on every condition. A lot of people ask me questions if I can play abroad and yes I feel I can win abroad as well.
"It is just a matter of the 72 holes coming together and having some luck as well. I'm hoping to win outside of India this year but I won't mind if I win in India again," said Lahiri, who has now won all his three titles at the Delhi Golf Club.
With his confidence soaring, Lahiri will be among the hot favourites to contend at this week's Avantha Masters, which is tri-sanctioned by the Asian Tour, European Tour and Professional Golf Tour of India (PGTI), at the Jaypee Greens course.
"The Indian leg is now turning out to be crucial as it's early in the year. If you get off to a good start, you can be like Prom (Meesawat) last year where he had a great season finishing up. It's important to get off to a good start in the Indian swing. I'm looking forward to playing well as Jaypee Greens is one of my favourite courses," said the 25-year-old.
Lahiri will not take his victory for granted and is determined to keep his feet firmly grounded as he aims for more glory on the 2013 Asian Tour season.
"I need to sit down with my parents and friends and they can abuse me and keep me grounded. I have to be thankful how things have worked out for me. Any win for me is a gift. I'm just grateful that it has happened to me.
"It's back to the grind for me. My focus is to play well in the bigger events and try to break through. I'm going to be focused on that.
"There was a phase where I couldn't close out tournaments and there was a phase where I could close out tournaments. I finished second a few times last year. I guess it comes and goes. If I can keep doing what I need to do with my mind and my game, the results will come," said Lahiri.
Mithun Perera, the first Sri Lankan to earn a full Asian Tour card, is third on the Order of Merit with $ 35,250 while Rashid Khan moved to fourth with $ 33,000 courtesy of his second place result at the SAIL-SBI Open.
Siddikur ($ 20,587) of Bangladesh, Thai rising star Kiradech Aphibarnrat ($ 18,900) and Shiv Kapur ($ 15,000) of India occupy fifth, sixth and seventh positions respectively on the Order of Merit.
The Asian Tour, which is celebrating its 10th season this year, will remain in India for the euro 1.8 million (approximately $ 2.3 million) Avantha Masters this week.