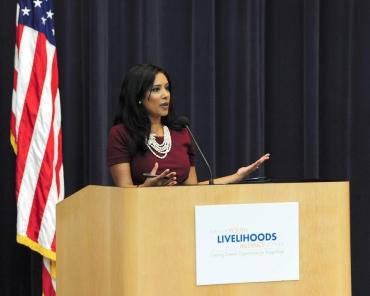 While the likes of senior Indian American officials in the Barack Obama administration -- namely Administrator of United States Agency for International Development Dr Rajiv Shah and Chief US Agricultural Negotiator in the Office of the US Trade Representative Islam 'Isi' Siddiqui -- enjoy a major public profile, there are others who have been flying under the radar but are rising stars nonetheless.

One such person is Zeenat Rahman, who has been a close aide to erstwhile Secretary of State Hillary Clinton since last June.
She earlier served as director of the State Department's Office of Global Youth Issues, and now serves as the new secretary to John F Kerry in the same position. She also works as his Special Adviser on Global Youth Issues -- considered an integral part of US diplomacy.

Under her leadership, the office operates as a nexus between policy and practice, incorporating youth voices into critical debates that help shape global affairs. Through a variety of mechanisms, including private sector partnerships and cooperation with an extensive network of over 50 Youth Councils worldwide, the office amplifies youth issues and supports youth-driven solutions to many of the world's most pressing problems.

Rahman told rediff.com, "Young people today are at the center of global events," and asserted that this was "not just a platitude, but a fact, given that half of the world's population is under the age of 30."

She said one way to harness the talent of youth and create new pathways for progress, since this human capital is a fundamental driver of economic development, was through entrepreneurship -- defined by innovation, creativity and economic advancement.

Rahman recalled that in 2009, President Obama had highlighted entrepreneurship as a pillar of US global engagement and said at its core entrepreneurship is about optimism.

She said her former boss Clinton had said, "Entrepreneurship is a way of looking at the world and seeing not just obstacles, but opportunities; not just the world as it is, but the world as it could be."

Rahman said, "Entrepreneurship can therefore be not only a vehicle for economic development, but an equally and powerful form of empowerment."

She said that since empowerment was at the core of Washington's engagement with young people around the world, Secretary Clinton had created the Office of Global Youth Issues, put her in charge "and asked me to ensure that our youth programmes are sustained, coordinated and have meaningful impact."

Rahman had traveled with Clinton, opening youth councils, elevating youth issues, engaging directly with young people and trying to be catalytic in offering tools to give vent to the aspirations of young people "who want to be the change-makers in their communities."

She said the priorities of her office included empowering young people as economic and civic actors through US programmes and policies, encouraging governments to respond to youth issues through US diplomacy, and directly connecting with young people around the world to inspire positive change.

Prior to this appointment, Rahman had served as the acting director of the Centre for Faith-Based and Neighbourhood Partnerships at the USAID.
In this role, she led external engagement efforts with various faith based and community organisations to build support for USAID priorities. These priorities included President Obama's Feed the Future food security initiative, Child Survival Campaign, and efforts to address the drought and famine in the Horn of Africa.
She also worked closely with the White House Office of Faith-Based and Neighbourhood Partnerships to expand partnerships with faith-based and nonprofit groups around the United States.

Before her entry into government service, she was the Director of Policy at the Interfaith Youth Core, where she worked closely with the White House and various federal agencies in order to advance programmes related to youth, religious identity, inter-religious engagement and interfaith service.

During her career, she has built and managed international youth programmes in over a dozen countries and traveled abroad frequently to speak about the importance of youth leadership in promoting civic engagement and harmony between diverse communities.

Rahman is a term member of the Council on Foreign Relations, a member of the British Council's Transatlantic Network 2020, and a Truman National Security Fellow.

She said, "One of the accomplishments I am most proud of is working closely with the White House to launch the President's Interfaith and Community Service Challenge. This initiative recruited colleges and universities to adopt interfaith cooperation and community service projects led by young people as an important way to build understanding between different communities and contribute to the common good."

She said, "I started at USAID after Raj was appointed as the administrator and I reported directly to Raj, and I led external engagement efforts with various faith based and community organisations to build support for USAID priorities."

"My last trip with Secretary Clinton was to Dublin, where we launched our 50th youth council together. Looking ahead, I am travelling to India in April to launch a youth entrepreneurship initiative with Microsoft and I also hope to visit Pakistan and Bangladesh soon," she said.