New Yorkers say they run a marathon every day. They run for the subway and for the bus, they run to keep up with the city's frenetic pace.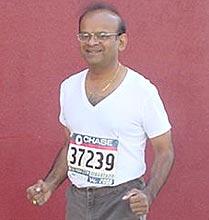 So there is a special place in the city's lexicon of urban legends for the city marathon, which takes place every November.
More than 30,000 New Yorkers take part in the grueling 26.2-mile race. This year the rapper and impresario P. Diddy (the artist formerly known as Puff Daddy) announced he would run to raise money for a children's charity.
The race is designed in such a way that it spans each of the city's five boroughs. It starts from the Staten Island side of the Verrazano Bridge, heads through the length of Brooklyn, through parts of Queens and the Bronx, and ends in Central Park's storied Tavern on the Green.
According to runners, New York's marathon is unique among international marathon events for only one reason: the cheering spectators who line virtually every inch of the route.
A million spectators turn out to watch the runners and millions more watch the event on television.
This year is the 34th New York City Marathon. Of the million people standing on the sidelines offering water, applause, and support, many hundreds are tourists who come from Europe, Asia, Africa and the Indian subcontinent to cheer runners from their respective countries.
Every year many Indian runners, sometimes more than 100, from a range of age groups, take part in the event.
Not that they expect to win.
That particular honor is expected to go to Kenya, whose runners, men and women, dominate the race, and have done so for many years. (The last time a white American won the New York City marathon was in 1982.)
Indians have been taking part in the marathon since the late nineties. There are also participants from the other South Asian communities of New Jersey, Queens, Connecticut and New York.
Asha for Education, a volunteer organization that raises funds for educational projects in India, initiated a training program for marathon runners in 2000.
In last year's marathon, five first-time runners who participated in the Asha's NYC/NJ marathon training program raised over $18,000 for the group.
"By running as a team in the marathon we are not only participating in a world-class event but also furthering the cause of child education in India," said Sarabjit Kaur, a longtime volunteer for Asha's NY-NJ chapter.
Some of the participants who run the race have become a part of the marathon's evolving personality.
Dr Avtar Singh Tinna, a dentist who practices in the Jamaica neighborhood of Queens, has been taking part in the run for more than a decade.
"When I first entered the race in 1990, I was the only Indian to take part," he said. "But lately I have seen Indians from 12 countries, including India."
This year a contingent of 10 Sikh runners is taking part, as is Fauja Singh, a world marathon record holder in the above-90 age category.
They are running to raise awareness of the Sikh religion in a nation that has displayed some lack in that area.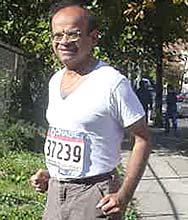 Also taking part is Rashmin Master, a certified public accountant from Elmhurst, Queens, who is running his seventh race.
Master, 50, ran six days a week – an hour a day and two hours on Sunday – to train for the event. He also lifted weights, watched his diet by taking no more than 2,000 calories a day and "trying to be lighter, around 135 pounds", before the race.
Why does he do it?
"I want to set an example to my boys," Master told rediff.com. "They are competitive swimmers and they practice a lot. We three inspire each other to do better."
Master's wife, Kalpana, a pediatrician, and the couple's two teenage sons, Deep and Dev, all take part in the build-up to the big day. The marathon itself is a kind of family affair for the Masters.
He relies on the moral support his wife and sons provide, especially around the 20-mile point, for that is when exhaustion sets in and the run becomes a test of endurance.
"To reach 20 miles is a challenge," Master said. "After that, you hit a wall and you have to cross it. Once you cross it you have to see how much you have left in the tank. If you go too fast you will collapse, you have to pace yourself."
Master usually completes the run in around four and a half hours. He eats Powerbars for nutrition and prays.
"I rely on the crowd to keep me going," he said. And he relies on seeing his family waiting at the finish line.