Having got the government clearance, All India Football Federation (AIFF) president Praful Patel on Thursday expressed confidence that India would win the right to host the Under-17 FIFA World Cup in 2017 despite facing strong competition from the other three bidding countries.
"This is an extremely positive development for Indian football and I am confident India will be able to make a formidable and successful bid with the backing of the Union Government of India even though there are some other strong contenders," Patel said in a statement.
The Union Cabinet on Thursday gave the go-ahead to India's ambitious bid to host the tournament by giving its approval to the proposal for submitting guarantees sought by the AIFF.
"I have been actively following up with FIFA regarding the submission of our bid and I'm hopeful that our efforts will be fruitful," he added.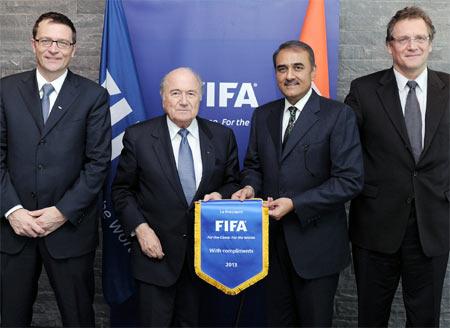 Ireland, Uzbekistan and South Africa are the other three bidders.
AIFF general secretary Kushal Das, too, welcomed the government's decision to approve its bid.
"It's a great decision, a game-changer for Indian football, provided we successfully get the Under-17 World Cup," Das said.
The tournament is already being backed by FIFA Secretary General Jerome Valcke.
The quadrennial event will involve 24 of the best youth teams in the world and is expected to be held in Mumbai, New Delhi, Kolkata, Goa, Bangalore and Kerala if India is successful in winning the bid.
India will be submitting its formal bid to FIFA soon, before the September deadline. The final decision on the host country is expected to be taken by the FIFA Executive Committee in December.
The expenses incurred in organising the event will be borne by FIFA and AIFF, but the government will take care of construction and renovation of stadiums, besides earmarking a sum of Rs 25 crore as contingency to ensure smooth conduct of the tournament.
"The Union Cabinet today gave its approval to the proposal for submitting guarantees sought by the All India Football Federation (AIFF) from the Government of India for their bid to host the Federation Internationale de Football Association (FIFA) Under 17 World Cup Football Tournament in 2017 in India," a statement issued by the Sports Ministry said.
"While the expenditure for upgradation of stadia (Rs.95 crore) will be provided as additional central assistance to the State Governments, a sum of Rs. 25 crore is kept as a contingency to ensure smooth conduct of the tournament," the statement said.
Image: (From left to right) Thierry Regenass, Joseph Blatter, Praful Patel and Jerome Valcke pose after a meeting at the FIFA Headquarters in Zurich.
Photograph: AIFF Media