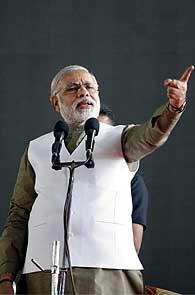 With former Congressmen the Radadias in the BJP fold thanks to Narendra Modi's deft coup, the latest bye-election result may create an energetic power balance within Saurashtra, reports Sheela Bhatt
For Gujarat Chief Minister Narendra Modi, the wonderful possibilities of 2014 cannot unfold in any better way than it happened today, with handsome wins in two Lok Sabha seats and four assembly seats.
If a political party cannot make drought and serious water scarcity an election issue, it has to be politically bankrupt. In spite of the less than satisfactory management of the water situation in certain parts of Suarashtra and Banaskantha by the Modi government, the Gujarat Congress completely failed to identify with the people and their issues. They failed to send the message that they have learnt lessons from the defeat of 2012 and are gearing up to look ahead.
The fact is, there was no attempt to learn the lessons and there were no attempts to communicate with the people. Once again it has been proved that the Gujarat Congress is leaderless, lacks a positive mindset, and is chronically ill due to an inferiority complex.
In spite of Rahul Gandhi at the helm of affairs at New Delhi, there is no solution in sight for the Gujarat Congress's ailment.
The loss-making Gujarat Congress turned bankrupt on Wednesday if you look at the margin of victory for the BJP. In Gujarat there is no alternative to the BJP. As the Gandhi family is cleverly doing in New Delhi, where all the credit for every single win of the Congress goes to the Gandhis and the party bears the brunt for the losses, in Gujarat the Bharatiya Janata Party's victories are, always, credited in the master account of Chief Minister Narendra Modi.
Modi is so arrogant and confident that he never goes to campaign in by-elections, just as the Gandhis don't.
Modi sent his trusted ministers like Anandiben Patel to Banaskantha and his confidant Amit Shah worked round the clock to ensure that the Congress does not get sympathy votes as the two of the bye-elections were necessitated by the death of two of its candidates (from Sabarkantha Lok Sabha seat and Morva assembly seat).
But the Congress could not retain the seats due to a wrong choice of candidates. In both places, nepotism within the Congress contributed in defeating the party.
A senior Congress leader told rediff.com, "Our workers have been very demoralised after three successive defeats under Modi. They have no enthusiasm left. The Congress does have 35 per cent of loyal voters in Gujarat but in bye-election the voting remained very low, their turnout was so low that the BJP's victory margin went high."
He said, "A major reason for the BJP's victory was the mindset of voters who had decided that since the BJP is going to be stable in Gandhinagar for the next four and a half years, why vote Congress? Why take on local BJP leaders and slow down the development work?"
People normally don't waste their votes, the Congress now knows.
One understands why the BJP won in the assembly seats but its massive win in two Lok Sabha seats should worry the Congress more.
In the 2012 assembly election Modi wanted 125 seats or more. He could only manage 115 seats out of 182 because from Saurashtra he got nine seats less than in 2007.
Keshubhai Patel, his arch-rival, had done limited damage by splitting the anti-incumbency votes in Saurashtra, including some votes of Leuva Patels. But the latest bye-election result may create an energetic power balance within Saurashtra.
After his victory in the 2012 assembly polls Modi didn't become complacent. He staged a coup which is unheard of.
After December 2012, when the BJP got 115 seats and Congress got 61 seats, the Congress party didn't listen to Patel community leaders. Shankersinh Vaghela, a Kshatriya, was made Leader of Opposition instead of Vithalbhai Radadia, the Leuva patel leader from Saurashtra. Before the 2012 assembly election Vithalbhai was a sitting member of Parliament from Porbandar. He quit as MP to fight the assembly poll from Dhoraji. Not only did he win on a Congress ticket from Dhoraji, his son Jayesh too fought and won from Jetpur constituency in 2012.
Vithalbhai laid a strong claim to the LoP post in the state assembly. After all, during the election campaign, he had arranged a massive rally for Sonia Gandhi in Rajkot on October 3, 2012.
Radadia is a muscle man, and a highly vulnerable man too as he is facing allegations of a bank scam. He was in fact insisting on a ministerial post in the Union Cabinet after he lost out to Vaghela.
He saw that in the Gujarat Congress there was not much scope for people like him. Being a Patel of Saurashtra, where the Congress continues to bank on Kshatriya and OBC votes, he will always be ignored.
Modi also saw that he has to strengthen his position in Saurashtra after the 2012 results. Modi, who is willing to compromise when it comes to realpolitik, staged a coup. He struck a deal with Radadia whereby the father-son resigned from Dhoraji and Jetpur assembly seats in March 2013 -- three months after winning them on the Congress symbol.
Next, Modi gave Vithalbhai a Lok Sabha ticket from Porbandar which had been held by him till December 2012. He has now won from there with a margin of 1.34 lakh votes.
Jayesh Radadia was given the lotus symbol to fight on from Jetpur this time (less than six months after he fought on the Congress symbol) and he won by 52,910 votes. Since Vithalbhai, "the gun-toting Congressman" turned BJP MP is tainted, with some dozen police cases against him, his son Jayesh is likely to be made a minister soon in Modi's Cabinet in Gandhinagar.
Along with his son, Vithalbhai brought along the Patel votebank of Porbandar-Junagadh to the BJP fold to ensure the party's success in the 2014 Lok Sabha election.
Since the last many decades in India, behind every political success there is a crime. Today, Radadia has scripted a fantastic success for Modi.