Australia's long distance swimming champion Grant Hackett believes Michael Phelps' competitive streak could drive him to win a record eight gold medals at this year's Olympic Games in Beijing.
Phelps is aiming to challenge the record seven gold medals American swimmer Mark Spitz won at a single Olympics -- in Munich in 1972.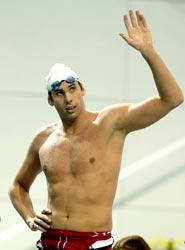 It is a feat that has proven beyond every Olympic swimmer for the past 36 years but Hackett thinks Phelps may be the one to finally break it.
''I think anything is possible with Michael,'' Hackett told reporters in Sydney on Tuesday.
''He's a phenomenal competitor and I have absolute respect for him as a person and an athlete. He always seems to punch above in every event that he goes in, he's just an animal when it comes to competing.''
Hackett has his own date with destiny in Beijing, where he will attempt to become the first male swimmer to win the same individual event at three Olympics.
Hackett won the 1,500 metres freestyle, the longest event in the pool, at the 2000 Sydney and 2004 Athens Games and holds the world record for the event.
He suffered his first defeat in over a decade at last year's World championships in Melbourne when he went into the meet not fully fit but said the loss had inspired him to make amends in China.
''What I hated most was that I did not get the most out of myself personally and at the end of the day, the only person you are accountable to is yourself,'' he said.
''I was disappointed with that and it is one thing I swore would never happen again and that I would have no regrets.''