Ekaterina Makarova and Elena Vesnina claimed their maiden grand slam title together by beating Italian top seeds Sara Errani and Roberta Vinci 7-5, 6-2 in the French Open women's doubles final on Sunday.
The fourth-seed Russian pair, beaten by Errani and Vinci in the Australian Open semi-finals this year, clinched four games in succession in the second set, wrapping it up with a Vesnina overhead.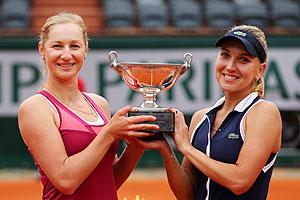 "Honestly, for us it's a surprise that we didn't drop a set for the whole tournament, because it was a really difficult tournament," Vesnina said.
The result marked the Russian pair's first victory against Vinci and Errani in five meetings.
"We really wanted to beat them finally, because it's really difficult to play against the same team and losing all the time," said Vesnina.
"For us it was a turning point this time. We were not thinking it was a final or a grand slam, we were just thinking that we have to beat them and we have to keep playing our game, not changing anything and believing in ourselves."
Photograph: Julian Finney/Getty Images