Britain's double Olympic champion Mo Farah will run the first half of this year's London marathon prior to making his debut over the full distance in the 2014 race.
"The Olympic 5,000 metres and 10,000 metres champion has agreed to make his full marathon debut at the 2014 London marathon and will use this year's race to prepare himself for the challenge of tackling 26.2 miles (42.195 kms)," a statement from the race organisers said on Saturday.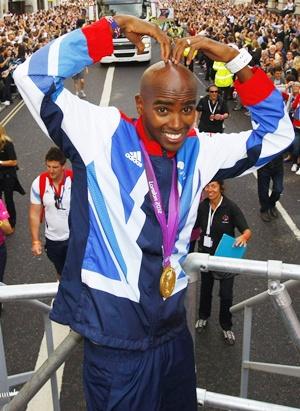 "Farah's aim is to test himself against the best in the world while becoming familiar with the London course."
Farah won the London mini-marathon three years in a row as a schoolboy between 1998 and 2000. He made his half-marathon debut in 2011 when he won the New York City half marathon in a British record 60 minutes 23 seconds.
"As a young boy growing up in London it has always been my ambition to run the London marathon," he said in the statement.
"I won the mini-marathon when I was younger and have watched the race every year for as long as I can remember.
"I will make my marathon debut in the 2014 London marathon but will run the 2013 race to halfway as part of my preparation for 2014. It will allow me to understand the course and the systems I will need when I run the full distance."
Farah, 29, plans to defend his world 5,000 metres title in Moscow this year.
Photograph: David Davies/WPA Pool/Getty Images