Asia-focused bank Standard Chartered has extended its sponsorship of Liverpool Football Club for two years, continuing one of the most lucrative deals in English sport.
Standard Chartered, which is based in London but makes almost all its money in Asia, the Middle East and Africa -- regions where Liverpool has a strong following -- has been the club's shirt sponsor since July 2010.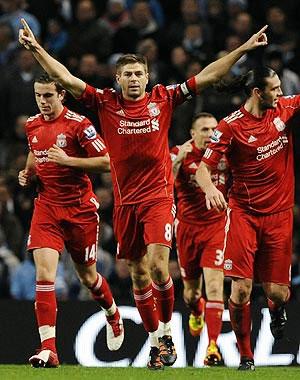 The original deal was worth about 20 million pounds a season. Financial details of the extension were not released, but a person familiar with the matter said the terms were broadly similar, with potential top-ups if the club is successful. The deal will run until at least the end of the 2015/16 season.
"Liverpool are hugely popular in the markets where we do business, and we are excited about the opportunity to continue to work with this fantastic club and their passionate fans," said Peter Sands, Standard Chartered's chief executive. Sands is an ardent Arsenal fan.
Liverpool have won Europe's top soccer competition five times, more than any other English team, but their last win was in 2005 and for the last two decades they have failed to match the domestic feats of great rival Manchester United.
Manchester United have the most lucrative sponsorship deals, and signed a record $559 million, seven-year deal with U.S. carmaker General Motors for Chevrolet to be shirt sponsor from 2014.
Liverpool's reputation off the field took a knock in the 2011/2012 season when their star player, Luis Suarez, was banned after a racism row. Standard Chartered publicly criticised Suarez's actions and put pressure on the club to resolve the issue.
The Premier League is one of Britain's most successful exports, with overseas TV rights for the next three seasons worth an estimated 2 billion pounds and top clubs like champions Manchester United able to sign sponsorship deals in dozens of foreign markets.