The Maria Sharapova-Jimmy Connors partnership got off to a rocky start on Tuesday as Sloane Stephens shocked the third ranked Russian 2-6, 7-6(5), 6-3 at the Western and Southern Open.
Victoria Azarenka also made a shaky return following a brief injury layoff but recovered to dispose of American qualifier Vania King 6-1, 7-6(6) and reach the last 16.
While it is too early to tell if Sharapova and Connors can produce the same kind of success Andy Murray has enjoyed since recruiting Ivan Lendl as his coach, the first step was far from a positive one.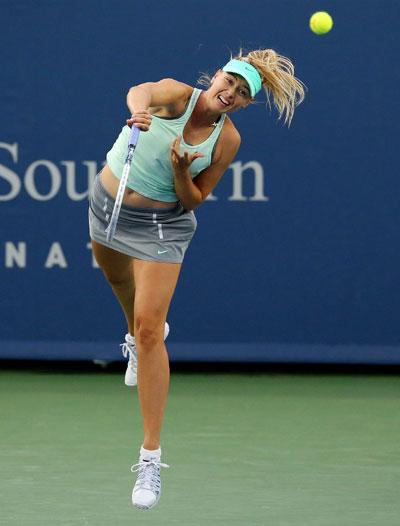 "Obviously I didn't lose today because I didn't implement what we were working on," Sharapova told reporters. "The things that we're working on ... are to improve with the game I have.
"So, obviously, it's tough to lose at this stage but just got to keep working hard and keep moving forward."
Stephens, ranked 17th in the world, was always going to be a tricky test for Sharapova and the loss likely had more to do with her seven-week injury layoff than the new coaching relationship with Connors, who oozed grit and determination to build a Hall of Fame career.
On the sidelines with an injured left hip since a second round loss at Wimbledon, Sharapova moved effortlessly across the Cincinnati hardcourt but her play lacked sharpness, the Russian committing over 60 unforced errors and seven double faults.
"I stopped being patient and I started making a lot more errors, errors that I shouldn't make," said Sharapova.
"Obviously I haven't played in a long time but I can't make that excuse for myself because I've got to be ready from the first match.
"So it's obviously disappointing, but that's the way it goes in this game."
Connors would have been pleased with Sharapova's opening set but likely more impressed with the grit shown by her young opponent, who refused to buckle and battled back from 0-2 down in the second to force it to a tiebreak, which she took 7-5.
Looking on from the stands, Connors was dressed like he came to work with his long-sleeved white shirt rolled up the elbows and glasses dipped on his nose.
But there was nothing the nine-time grand slam winner could do as he watched his student unravel in the third set except hang his head.
Stephens left the door open for Sharapova as she struggled to close out the match, twice double-faulting on match point, before the Russian finally committed the last of her unforced errors by spraying a return long and wide.
"I rarely double fault, so for me to double fault twice on both match points was a little flustering but I was glad to get through it," said Stephens.
The match was the highlight of a busy day at the Western and Southern Open, which brings together the top players from the ATP and WTA Tours in a joint event that for many will serve as their final tune-up to the August 26-September 9 U.S. Open.
Earlier in the day, Azarenka returned to action after sitting out last week in Toronto with a sore back, and the world number two showed no signs of rust as she breezed through the opening set in 28 minutes.
But it was King who took control early in the second set by breaking the grunting Azarenka at the first opportunity on the way to a 3-0 lead.
Azarenka, dripping with sweat on humid morning in Ohio, dug deep to pull level at 3-3 before forcing the set to a tiebreak, which she again rallied to win 8-6.
Image: Maria Sharapova of Russia serves to Sloane Stephens during the Western & Southern Open at Lindner Family Tennis Center in Cincinnati, Ohio.
Photo: Ronald Martinez/Getty Images