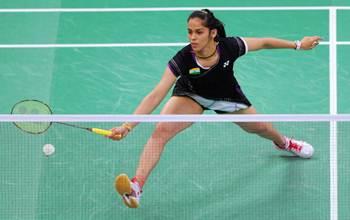 Saina Nehwal and Parupalli Kashyap advanced to the second round of the China Super Series Premier after straight-game victories in the women's and men's singles respectively, in Shanghai, on Wednesday.
Saina, seeded sixth, overcame Japan's Nozomi Okuhara 21-14, 21-19 in 39 minutes, while world No 12 Kashyap recorded his fourth victory over the eighth ranked Thai Boonsak Ponsana, beating him 22-20, 21-15 in 46 minutes.
Olympic bronze medallist Saina relied on her net game to outclass Nozomi, as she registered 19 net winners compared to 11 by the Japanese.
The 23-year-old Indian will next take on China's Sun Yu in the pre-quarter-finals.
Saina, who had beaten Nozomi in the Malaysia Open earlier this year, didn't give the Japanese any chance in the first game as she raced to a 5-2 lead and then kept extending it.
In the second game, Saina enjoyed a 10-6 lead but Nozomi reeled off four points to catch up with the Indian. What ensued next was a tough battle for supremacy but it was the world No 7 Indian who had the last laugh.
Kashyap matched his higher ranked opponent with his smashes and outdid him in net play to earn a place in the second round, where he will meet Japan's Kento Momota.
From a 1-4 deficit, Kashyap turned tables on Boonsak, opening up a slender 9-8 lead. The duo fought hard for each point till 14-14 when Boonsak moved to 16-14 and managed to keep his lead, but the Indian exploded in the final moments, reeling off four straight points to pocket the first game.
In the second game too, Boonsak held an early 3-0 lead but Kashyap soon surged ahead at 6-4. The lead changed hands till 14-14, before the Indian once again raised his game and broke free.
Image: Saina Nehwal
Photograph: Getty Images