Manchester City [ Images ] suspended striker Carlos Tevez [ Images ] for up to two weeks on Wednesday, a day after manager Roberto Mancini [ Images ] said the player had refused to come on as a substitute in their Champions League [ Images ] match at Bayern Munich [ Images ].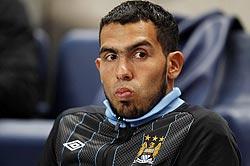 "The player's suspension is pending a full review into his alleged conduct during Tuesday evening's 2-0 defeat to Bayern Munich," the club said on their website (www.mcfc.co.uk).
"The player will not be considered for selection or take part in training whilst the review is under way."