Manchester City striker Carlos Tevez has denied he refused to play in Tuesday's Champions League Group A match against Bayern Munich, media reports said on Wednesday.
"There was some confusion on the bench and I believe my position may have been misunderstood," the 27-year-old Argentine international said in a statement, according to Sky Sports.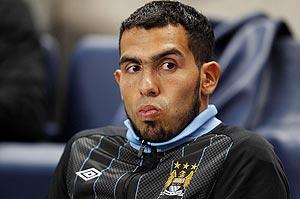 Manager Roberto Mancini said the unsettled striker was "finished" as a Manchester City player after refusing to go on as a second-half substitute in the English side's 2-0 defeat.
However, a contrite Tevez insisted he had not defied the manager's orders.
"I would like to apologise to all Manchester City fans, with whom I have always had a strong relationship, for any misunderstanding that occurred in Munich," he continued.
"They understand that when I am on the pitch I have always given my best for the club. In Munich on Tuesday, I had warmed up and was ready to play.
"This is not the right time to get into specific details as to why this did not happen. But I wish to state that I never refused to play.
"Going forward, I am ready to play when required and to fulfill my obligations."