Maria Sharapova has withdrawn from the Brisbane International with an ankle injury but the former world number one still expects to be fit for the Australian Open next month.
"Unfortunately my ankle is not 100 percent and I won't be able to make it this year," Russian Sharapova said in a statement posted on the tournament's website on Saturday.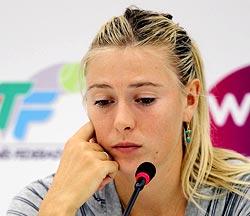 "I do expect to be ready for the year's first Grand Slam and I am really looking forward to competing on court."
Sharapova was upset in the fourth round of this year's Australian Open by German Andrea Petkovic at Melbourne Park, where she won the last of her three Grand Slam singles titles in 2008.
The 2012 Australian Open begins on January 16.