Maria Sharapova [ Images ] has committed herself to playing in Russia's [ Images ] Fed Cup first round tie against Spain in February, the World No 4 said.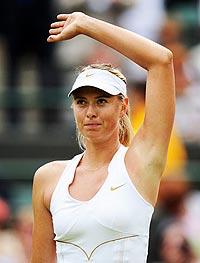 "Not sure if everyone knows, but I will be playing Fed Cup for Russia versus Spain after (the Australian Open [ Images ])," the Florida-based Russian said on her official website (www.mariasharapova.com).
"So glad we get to play in Moscow [ Images ]! I will have four weeks in the Australian summer and then a week in the Moscow winter."
Russia host Spain in the Olympic [ Images ] indoor arena on February 4-5.
Sharapova has not played for her native country since losing to France's [ Images ] Virginie Razzano in straight sets in the Fed Cup quarter-finals last February before being replaced for the reverse singles the following day.
Russia went on to beat France 3-2, then crushed Italy [ Images ] 5-0 in the semi-finals before losing to the Czech Republic 3-2 in the Moscow final last month.