Rafa Nadal pummelled Croatia's Marin Cilic into submission with a brutish 6-2, 6-4, 6-3 victory to reach the Australian Open quarter-finals on Monday.
Nadal's win under the Melbourne floodlights kept alive the world number one's bid to become only the third man, and first since 1969, to hold all four grand slam titles at once.
It also wiped away any lingering concerns about the flu bug that took the edge off his game in the first week and caused him to pour with sweat against Bernard Tomic on Saturday.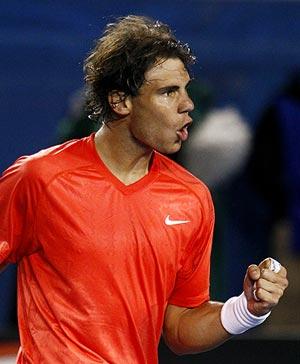 "Before the match I was scared, seriously," Nadal said after setting up a clash with fellow Spaniard David Ferrer, the seventh seed.
"Scared in a good way. But I played my best match here by far.
"I didn't sweat as much today," added Nadal, who shed two and a half kilos in his previous win over Australian teenager Tomic.
"Before I was sweating like crazy and it was a night session. Tonight I was able to play with high intensity, more inside the court and more aggressive."
Nadal looked far sharper against Cilic, hustling to chase down balls and rifle them back past the Croat, before striking his trademark gunslinger's pose with a bellowing cry of "Vamos!"
The first set was over in a blur for 15th seed Cilic, a sitting duck for Nadal as he attempted to slug it out toe-to-toe, only to get passed time and again by the 2009 champion.
Nadal took the second by forcing Cilic into another wild forehand as conditions grew ever chillier on a packed Rod Laver Arena.
He bulldozed over the finish line when his shattered opponent dumped a second serve halfway up the net after two hours and 31 minutes.
"Tonight was pretty cold and I didn't push him too much," said a rueful Cilic, who stunned Nadal in their only previous meeting in Beijing in 2009.
"You couldn't see how much he has in the tank."