Top seed Caroline Wozniacki and former champion Maria Sharapova brought glamour and grit to the opening day of the Australian Open with first round victories on the Rod Laver Arena Monday.
The smiles so familiar from countless magazine covers were replaced by the game face and the grimace as they got down to the serious business of winning tennis matches under leaden skies at Melbourne Park.
Dane Wozniacki, battling the perception that she is an unworthy world number one until she wins a grand slam title, clinched a 6-3, 6-4 victory over Argentine Gisela Dulko after a hard-fought 100-minute contest.
Sharapova earlier overcame a nervous start to down Thai Tamarine Tanasugarn 6-1 6-3, securing her first Australian Open victory since she won her last major title here in 2008.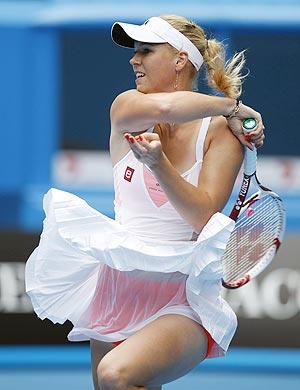 'I was definitely a little bit nervous in the beginning,' said the 23-year-old, who lost to fellow Russian Maria Kirilenko in the first round last year after missing 2009 through injury.
'You know, last year I played first match on centre (court) and, I lost. So I was kind of like, I don't want this to happen again this year.'
French Open champion Francesca Schiavone also needed to show some grit as she came back from a set down to win her opening encounter against Spain's Arantxa Para Santonja 6-7, 6-2, 6-4.
In the men's draw, American 18th seed Sam Querrey was the first seeded player to fall and he took his time doing it, losing 5-7, 6-2, 3-6, 6-1, 8-6 to Pole Lukasz Kubot over three hours and 20 minutes.
France's Gael Monfils, seeded 12, came from two sets down to win a similarly lengthy test 6-7, 2-6, 7-5, 6-2, 6-1 over Dutchman Thiemo De Bakker.
Rafa Nadal's quest to be the first man since 1969 to hold all four grand slam titles will not begin until Tuesday but Roger Federer later gets his chance to wrest the limelight back when he opens his title defence against Slovakian Lukas Lacko.
Boisterous queues had formed under dark clouds outside Melbourne Park more than an hour before play started but the rain that heavily disrupted the opening day last year stayed away, barring the briefest of showers.
Some 256 players from all over the world started the tournament with dreams, some more realistic than others, of being a grand slam singles champion and pocketing a cheque for $2.2 million.
Frenchman Julien Benneteau was the first to have those dreams crushed, forced to pull out of his first round match against Juan Monaco because of an infected finger.