Congress leaders, however, say that Jagan Mohan Reddy was in Mumbai for talks on a third front alliance. Neeta Kolhatkar reports.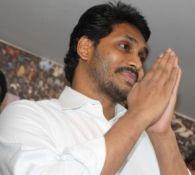 A huge board outside YB Chavan auditorium in Mumbai announced YSR Congress leader Jagan Mohan Reddy's visit to the city on Monday. Jagan ensured that his supporters came in buses, with flags, shouted slogans even after he left for Matoshree to meet Shiv Sena chief Uddhav Thackeray.
Jagan's said he was meeting leaders in Maharashtra with a mission for a united Andhra Pradesh.
"I am here to enlighten the leaders of Maharashtra and will be visiting few leaders," said Jagan. "Any decision on bifurcation of Andhra Pradesh should be taken after consultation with the Andhra Legislative Assembly. It is important to respect the legislature," he said.
Jagan's meeting with the Nationalist Congress Party president Sharad Pawar led to wide speculation on the nature of his visit as senior NCP leader Praful Patel has only two days earlier told a television news channel that they were speaking to members on a third front alliance.
Jagan, however, criticised the media for the speculation.
"Media reports say that this is a political meeting, but I'd like to say that it shows the overall level of journalism today," he said.
What Jagan forgot was that the leader he had sought support from, Sharad Pawar, once supported and wanted a separate Telangana. Now with meeting Jagan had he changed his stance?
Pawar clarified saying, "Earlier we did support Telangana. But a dialogue is important in a democracy and the view of the other side needs to be heard."
After the meeting and joint press conference Jagan rushed to Matoshree, which is not a party in either Centre or state government. The Democratic Front alliance party in the state, Congress ministers sniggered at these rushed meetings, calling Jagan's strategy desperate.
"This meeting was for a third front alliance, Sena has no role to play in a united Andhra Pradesh. Jagan will be foolish to rush into such an alliance," a Congress minister told Rediff.com.
The minister felt that Jagan shouldn't stray away from the Congress, now that he was released from jail.