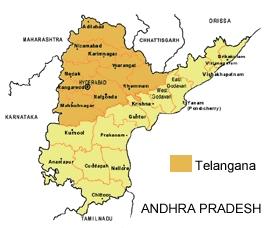 Leaders of various parties from both sides of the political divide met President Pranab Mukherjee at the Raj Bhavan in Hyderabad on Monday night and put forth their arguments for and against the proposed bifurcation of the state.
The Seemandhra leaders reportedly complained to the President about how the Centre was seeking to divide the state by subverting the Constitution and democratic norms.
Chief Minister N Kiran Kumar Reddy held a separate meeting with the President and made a strong pitch against the bifurcation of the state, sources said.
He recalled his recent letter to the President, in which he accused the Centre of "trivialising" the state bifurcation process by taking "shortcut" routes, without any "homework".
The Seemandhra leaders of Telugu Desam Party appealed to the President to keep the state united if the Centre could not render equal justice to all regions during the bifurcation process.
The YSR Congress sought withdrawal of the Union Cabinet's decision to "divide the first linguistic state without any basis."
Congress leaders from Telangana, too, called on the President and presented their version on the bifurcation.
"We have requested the President to let the state be united if the Centre cannot do equal justice to all regions in the bifurcation process. We also complained to him about the unilateral manner in which the Centre was going ahead with the division process," TDP senior Member of Legislative Assembly Payyavula Keshav told reporters after the meeting.
Though YSRC chief Y S Jagan Mohan Reddy did not speak to the media after his meeting with the President, the party released a copy of the memorandum he submitted seeking withdrawal of the Centre's decision to carve out Telangana.
"Unfortunately, the present action of the Union government for creating Telangana state not only does not conform to any of the established conventions and practices, but also goes against the recommendations of the Justice Srikrishna Committee, which recommended that the best option is to keep the state united," the YSRC said.
"The decision of the Union government is arbitrary and ultra vires to the Constitution," it added.
The Telangana Congress leaders, on the other hand, reportedly explained the need for creation of a separate state and how the concerns of Seemandhra people could be addressed through established mechanisms.